Beverly Glitzerflitzer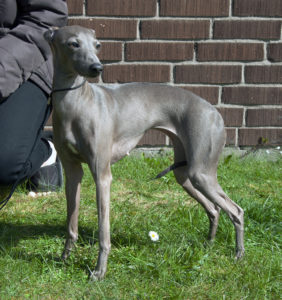 Heidi is after our favourite male Lovoly's Wanna Make Love To You, Matti. Matti's owner and I always wanted Matti and Smilla to get puppies as we believed strongly in that combination but as Smilla got sick we couldn't do it. So the closest I could get this dream of Smilla's and Matti's puppies was to get one of his puppies from some other combination. That is how Heidi came into our life.
Her best friend in our pack is our Azawakh and she herself believes that she is as large as an azawakh. She is full of energy and she is not afraid of anything. Heidi plays with everyone and adores her humans. She is extremely curious and she picks up new things very fast. She loves going to shows with Saga and lately these two discovered how much fan agility is.
Heidi impressed at shows and we can't wait until we can start showing her again.