**Saluki litter of 2022**
Father: SE CH, DK CH Lags Latifha Laurian
Mother: C.I.B., DK CH, SE CH, ESH 2018, KBH W 2017, ST W 2017, CPH JW 2016 Amal Hayati Oonah Nadira Al Jameelah
Puppies pedigree: link to saluki archives
Pregnancy journal: link to pregnancy journal
Born on: 2022-07-01
5 males and 2 females
On the afternoon of 1st of July, we warmly welcomed 5 males (black and tan, black and tan and white, crème sable and grizzle) and 2 females (grey och silver grizzle).
Some puppies may still be available.
The mom Oonah is a very confident and caring mother.
Both parents of this litter come from long show lines with numerous International, US and European champions. You can also find World Winners on both the father's and mother's side.
Welcome to follow the development of this litter here below.
---
2022-08-12 Six weeks old
Here are they, our six weeks old darlings. Each and of them being very brave standing on the table and very found of the treats they got. The treats were needed to keep them still as they are now in the period of running around all over the place, no matter if they are being outside or inside and it is really not being easy to keep them still.
At the same time they are very good at sleeping during the night. They actually sleep from around eleven in the evening until five in the morning.
No.1 Sommarvindens Silver Star
---
No.2 Sommarvindens Black Delight
---
No.3 Sommarvindens Black And Light
---
No.4 Sommarvindens Grey Is The New Black
---
No.5 Sommarvindens Silver Light
---
No.6 Sommarvindens Crème De La Crème
---
No.7 Sommarvindens Silver Arrow
---
---
The cutest energisers in the world!
---
2022-08-06 Five weeks and one day
Little ones are now 5 weeks old and playing around like crazy. They also run fast why it is not so easy to take a standing photo of them. Later next week Anette will hopefully be able to visit us again and we will try to take some stacked photos then. For now I hope you can enjoy these pictures taken in our garden.
No.1 Sommarvindens Silver Star
---
No.2 Sommarvindens Black Delight
---
No.3 Sommarvindens Black And Light
---
No.4 Sommarvindens Grey Is The New Black
---
No.5 Sommarvindens Silver Light
---
No.6 Sommarvindens Crème De La Crème
---
No.7 Sommarvindens Silver Arrow
---
Our little ones are now in the exploring period and they chew on everything they get hold of. The little Sommarvindens Crème De La Crème tasting a twig from our chestnut tree and little Sommarvindens Black And Light tasting his mother's tail.
Both of them are available for loving homes.
---
---
Bit by bit the known world of our sweethearts is expanding as you can see from our posts. All seven of them are so brave and love to spend their days playing with each other, their toys or simply by exploring new corners of the area they have access to. But still, the majority of their time they spend sleeping. If you were given the opportunity to watch them sleep you would often see that they are dreaming. It is in their dreams that they process all new impressions. And it is their dreams that make them brave.
---
---
---
---
---
---
---
---
Three weeks and four days old (2022-07-26)
Somme cuties from our litter wishing you all a good night!
---
---
Three weeks and two days old (2022-07-23)
I thought you might be interested in seeing how fast saluki puppies grow so I made below collage for you. You can use Oonah's leg as the reference. Amazing, or what do you think?
---
Three weeks old (2022-07-22)
Please join us in celebrating three weeks of joy and love.
---
---
---
---
---
---
---
18 days (2022-07-19)
Today we had a lovely visit from our daughter Ida so today's pictures are from her visit. Ida lives 10 minutes by car from us, in Lund where she is studying medicine so she is often here and all our dogs know her well. Oonah trust her fully and she is not getting stressed by having Ida in her puppy box.
A lot of things are happening very fast in the life of our seven puppies now. Just as you could see on the video posted yesterday they are now interacting with each other which is so fun to watch. They are also chewing on everything, including each other. The one of the reasons for them doing that is the same as why babies put everything in their mouth. This is how they learn. Another reason for all this chewing is that their teeth are on the way. So by the time you visit us at our home they will transform into the cutest small sharks with a very sharp teeth.
Oonah has also started to spend some time outside the puppy box herself. Just one week ago we needed more or less to force her out from it and now she has no problems going out or even sleeping some moments outside the box. But even the slightest sound from the puppy box makes her wake up instantly and run back to her babies, just as every loving mother does.
---
---
---
Two weeks old (2022-07-15)
Time is such a strange thing. While waiting for these little ones it felt as it was barely moving and now when the little ones are here and growing it feels like the time is running away so fast that I hardly can keep up with it. The little ones are already two weeks old! Can you imagine that?
They maybe have been here for just two weeks but a lot managed to happen since they got born. If you were able to sneak peek into the puppy box today you would see little ones practicing keeping their balance when standing and taking more and more steps. Also their eyelids are getting more opened with the each day that passes.
---
---
---
---
---
---
---
12 days (2022-07-13)
So the moment I was so longing for finally came. When I was sitting outside the puppy box and watching No.5 Silver Light take his first wobbly steps with the happiness in my heart I noticed him blinking. This is something the little ones do once their eyes open so I went inside and picked him up. Imagine my surprise when I saw right into his beautiful puppy eyes just like in the picture here below. I released an involuntary scream and got tears in my eyes. They were tears of happiness. I checked puppy after puppy and could see that all of them had their eyes opened in the various grade.
I was convinced that they would not start opening their eyes for some days yet. The reason for this is that, with the exception of our IG litter in 2020, I never wrote down the day of when the little ones opened their eyes so I had not so much data to compare with. And the puppies in our IG litter opened their eyes around day 18. And this litter is just 12 days old. That means that this litter started opening their eyes 6 days prior to the IG litter. It is just magical but it also shows how individual development of each litter is. There may be several causes for such a huge difference. This may include the breed difference or the difference based on the day of the birth. Our IG litter was born very early, on day 58. This could be the reason why they needed more days to develop their eyes.
Regardless of the reason for this, I could not have wished for a better surprise than the one I got. Soon the little ones will be much more social, playing with each other and toys. They will practise to walk, run and jump. I so hope that we will manage to capture these moments in pictures and videos and share them with you all.
---
11 days (2022-07-12)
---
---
---
---
One week old (2022-07-08)
One week has passed since our little babies were born and they are all growing very fast. However, their eyes are still closed and it will take a little bit more than one more week before they start to open. For me it will be the moment when I will feel like being able to look into their soul.
On the below pictures, taken today, all of the little ones look like sleeping and this is exactly what they were doing. We take all pictures, like these, in the puppy box and directly after the little ones have eaten. This is usually the moment when they fall asleep. And the blanket they are photographed on is hanging on the wall of the puppy box all the time so that the little ones feel familiar with its scent. Even if Oonah trust us blindly we still want her to be in the puppy box with us during these photo sessions. She usually sleeps throughout entire photo session. Today she even turned us all her back before she closed her eyes. It was like she was saying that she needed to rest and that she was happy with us taking care of her babies. We also never take pictures like these more often than once a week. All other pictures I share are just a random moments captured by me when I see them.
And now, finally, we can share both the name theme and little ones pedigree names. It has not been easy to decide and I would like to thank one more time to you all who came with beautiful theme suggestions. The name theme of this litter is Colour and here below we proudly share all the names:
---
---
---
---
---
---
---
---
Five days old
I understand that the wait for the update has been long and I understand that you would like to visit us as soon as possible but to be honest with you the only two things these little ones are doing is eating and sleeping. So I captured the below video just to give you a glimpse of how it goes when they are eating.
At first I thought to put some music to it but I changed my mind. This way you can hear how it sounds when these little cuties are eating.
I zoomed out in the end of the video to enable you to see who is who but if you still have difficulties to see it here is some help:
From the far right you can find: No.4, No.1, No.7, No.6, No.5, No.2 and No.3.
---
Three days old
---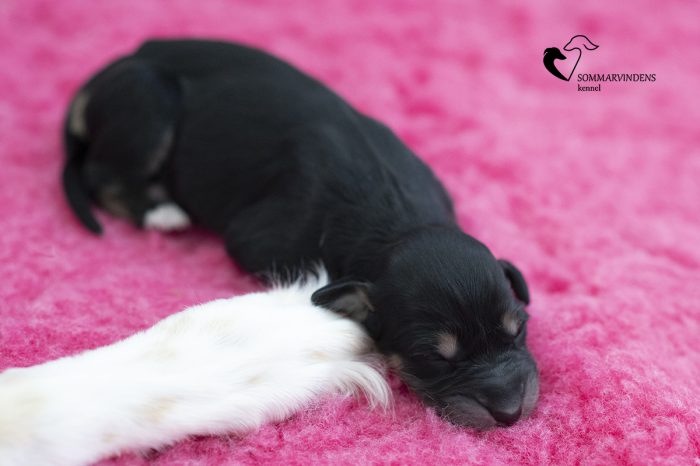 ---
One day old