Heidis första kull – dräktighet / Heidi's 1st litter – gestation
SE CH Py's Forelli x  Beverly Glitzerflitzer
Progesteronnivå/Progesterone level: 14,93 nmol/l 1st June
Magens strl. vid revbenen vecka 0/Belly size at ribs week 0: 30 cm
Magens strl. vid höfterna vecka 0/Belly size at hips week 0:  29,0 cm
Löpet började/Heat start: 23th May 2020
Parning/Mating: 3rd June 2020
Beräknad förlossningsdatum/Est. date of birth: 5th August 2020
Every post here below will be written in both Swedish and English (italic)
2020-08-01
Den första natten gick jättebra. De små har alla gått upp i vikt vilket är jättebra då det kan hända att de tappar vikt första dygnet. Heidi är en fantastisk mamma som tar jättebra hand om sina bebisar. 
Detta blir den sista uppdateringen av denna sida. Jag kommer starta en ny där jag kommer uppdatera med veckobilder av de små. För att följa denna kull på så gott som daglig basis kan ni se vår "News" sida, länken dit finner ni i menyn ovan. 
Ni som fortfarande är intresserade av en valp ur denna kull är varmt välkomna att ringa mig för ett första längre samtal. Som redan meddelat tar vi inte någon beslut om vem som kommer få en valp ur denna kull innan vi har lärt känna er, och helst också träffat er. 
***
The first night went well. The little ones have gained weight which is very good as it can happen that they loose the weight the first day. Heidi is a fantastic mother that perfectly takes care of her babies.
This will be the last update of this page. I will start a new one where I will upload weekly pictures of the little ones. To follow this litter's adventures on almost daily basis please visit our News page through the menu on the top.
You who are still interested in a puppy from this litter are warmly welcome to give me a call. As already communicated we will not take any decision on who will get a puppy from this litter before we got to know you, and preferably also met you.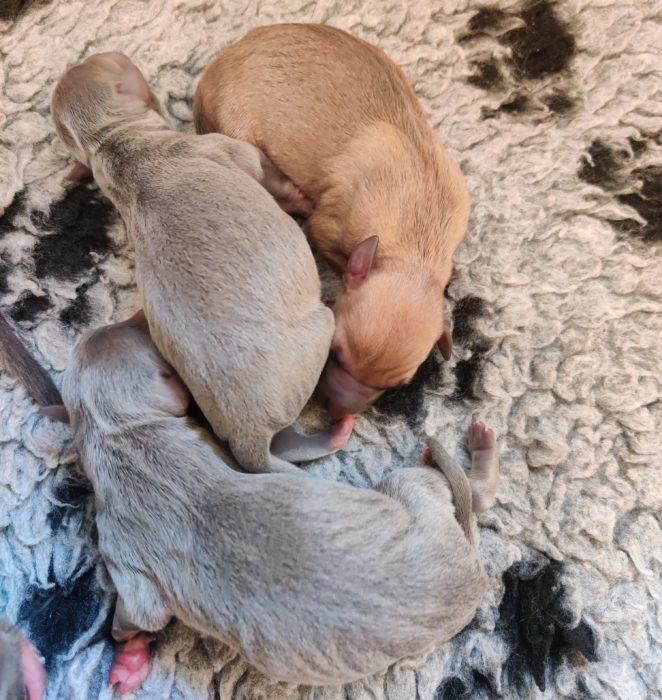 2020-07-31 (8w+2d) Day 58 of 63
Oh boy, vilken överraskning Heidi hade för oss imorse!
Allting började kring kl.3 på morgonen när Heidi började känna sig rastlös och inte många timmar senare var hennes alla tre bebisar födda.
Vi välkomnar:
Nr.1 – Grå hane
Nr.2 – Fawn hane
Nr.3 – Grå tik
Förlossningen gick bra och både mamma och de små mår bra. Vi ser inga tecken på att de små skall vara förtidigt födda trots att de föddes på dag 58.
***
Oh boy what a surprise Heidi had for us this morning! 
It all started in the early morning with her being restless around 3 AM. And not many hours later all three of her babies were born.
Join me in welcoming:
No.1 – Grey male
No.2 – Fawn male
No.3 – Grey female
Both the mother and the little ones are doing great and we don't see any signs of them being premature even though Heidi whelped on day 58. This is simply what happens from time to time.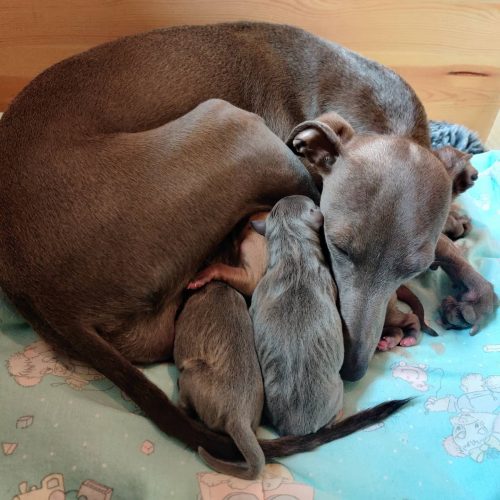 2020-07-29 (8w+0d) Day 56 of 63
Här hemma råder det delade meningar om huruvida Heidi är fet som en trumpet eller om hon inte alls är så fet. Dvs. vissa går och tror på 7 valpar medan vissa andra, mig inklusive tror på 3 valpar. Hon har helt enkelt inte blivit så stor som jag från början trodde att hon skulle bli. Om en vecka eller möjligtvis någon dag längre än så lär vi få veta vem som gissade rätt. 
***
Here at our house we have different opinions about the number of puppies Heidi is hiding in her belly. Some say that she is really fat and some, including me, don't agree. Her belly has simply not grown as huge as I thought that it would be. In about a week we will know.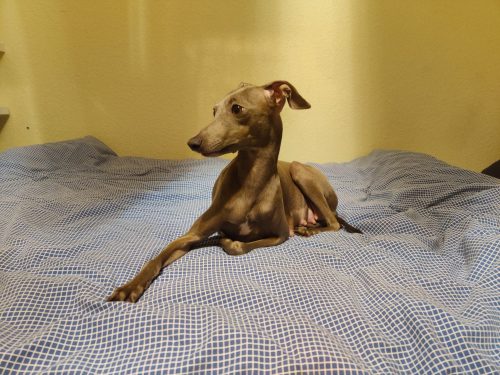 2020-07-28 (7w+6d) Day 55 of 63
Jag förstår att denna väntan är svår för oss alla. Därför skall jag försöka skriva lite oftare nu när vi bara har ca en vecka kvar till valpningen. 
Sedan förra onsdagen sover Heidi och jag i valprummet där även hennes valplåda ligger bredvid sängen. Dessvärre är hon inte intresserad av att sova där i så jag misstänker att den kommande kullen kan komma att vara vår första kull som föds i sängen. Av den anledning har jag beställt madrasskydd i inplastad frotté för att skydda sängen.
Vill lilla damen föda i sängen skall hon få göra det.
***
I understand that this waiting is difficult for us all. For that reason I will try to write a little bit more often now when we only have approximately one week to go.
Since the last Wednesday Heidi and I sleep in our puppy room where also her whelping box lies, just beside my bed. Unfortunately she is not interested in sleeping in there so I suspect that this litter may be our first litter to be born in a human bed. For that reason we ordered some water resistant mattress covers to protect the bed.
If the little lady wants to give birth in my bed she will get as she wants.
2020-07-26 (7w+4d) Day 53 of 63
Idag har det hittills regnat mest hela dagen så alla vovvarna inklusive Heidi tar det lugn. Själv vaknade jag med ont i halsen så jag har inte heller någonting emot en dags vila.
Det är bara de små varelserna i Heidis mage som tränar för fullt. Om tio dagar kommer de förhoppningsvis lämna magens trygghet och då gäller det att vara snabb för att kunna ta den bästa tutte.
Videon här nedan är tagen lite tidigare idag. 
***
It has been mostly raining so far today and all doggies, including Heidi, are taking it easy. I woke up with the sore throat this morning so I too don't mind getting an easy day.
It is only those little creatures in Heidi's belly that are exercising all day long. In ten days they will leave the safety of her belly and it will be the strongest one that will get the best place at the milk bar.
The below video is taken earlier today.
https://youtu.be/C26Bbdfwh74
2020-07-23 (7w+1d) Day 50 of 63
Som drottning måste man ha en tron att vila på.
***
If you are the queen you must have a throne to rest on.
2020-07-22 (7w+0d) Day 49 of 63
Nu börjar de sista två veckor av Heidis dräktighet. Hon och jag kommer förhoppningsvis börja sova i valprummet from inatt eller absolut senast imorgon. Damen i frågan fullständigt älskar att ligga på rygg och bli klappad på magen. På bilden här nedan hade Saga klappat henne en stund och man kan se hur hon nästan har somnat. 
***
The last two weeks of Heidi's gestation have started. She and I will hopefully start sleeping in the puppy room tonight or tomorrow night. The little lady absolutely loves to be petted on her belly and on the picture here below Saga just finished petting her for a moment and you can see how Heidi almost fell asleep.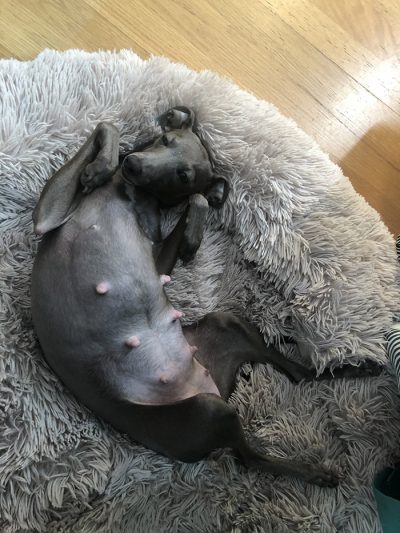 2020-07-20 (6w+5d) Day 47 of 63
Igår kväll så hände det. Vi la i soffan och myste och jag håll min hand på Heidis numera rätt så stora mage när jag kände en försiktig spark. Detta blir vår fjärde kull så det var fjärde gången jag upplevde denna första "kontakt" med ett foster. Känslan som infann sig igår är dock den samma jag upplevde de övriga gångerna. Mitt hjärta slog ett extra slag och jag fylldes av ren kärlek. Det var precis som om den lilla varelsen i Heidis mage sa: "Hej på dig, jag lever och mår bra. Vi ses om några veckor!"
***
 Yesterday evening it happened. We were laying at the sofa and cuddling. My hand was placed at the Heidi's, now days quite huge, belly when I felt a cautious kick. This is our fourth litter so I am experiencing this first "contact" with a fetus for the fourth time. However what I felt  yesterday was exactly the same  feeling as I felt all the other times. My heart jumped one extra heartbeat and I felt pure love spreading in my body. It felt just like that that little creature in Heidi's belly said: "Hello, I am alive and feeling well. See you in a couple of weeks!"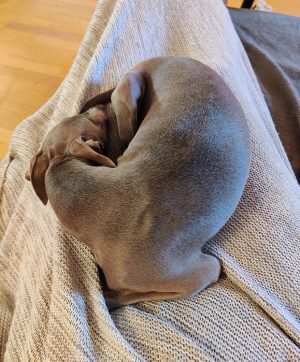 2020-07-18 (6w+3d) Day 45 of 63
Vi befinner oss i en lugn period nu där inte så mycket händer utanför magen. Den enda sak vi kan se just nu är att magen växer. En återblick till Anjas tidigare dräktighet sa mig att jag inom ca 3-4 dagar kommer kunna känna fostrens rörelser. Jag fortsätter massera Heidis kropp varje dag och har nu även börjat lägga min hand varsamt över hennes mage för att känna om någon där inne får för sig att ge mig hi five. 🙂 Än så länge har ingen vågat att göra det. 
***
We are now in a calm period there not so much is happening outside the belly. The only thing we can see right now is that the belly is getting bigger. Comparing with Anja's pregnancy I believe that I will be able to feel fetus move inside Heidi's belly within 3-4 days. I continue to give her daily massage but now I also started to carefully put my hand on her belly to see if I can feel someone give me hi five from inside. 🙂 So far no fetus dared to do it.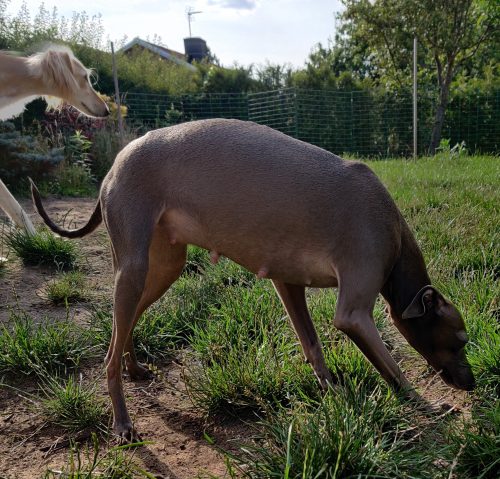 2020-07-15 (6w+0d) Day 42 of 63
Det känns smått otroligt att det redan har gått sex fulla veckor sedan Frasse och Heidi träffades. Iom det så har Heidi nu kommit in i den sista trimestern av sin dräktighet. Foster är 7 cm långa och fosterblåsorna är inte längre större än fostren. 
Det börjar nu också blir dags att tänka på att inreda valprummet som bör vara färdig om en vecka. Så idag efter jobbet började vi med att inventera vad var kvar sedan Anja hade valpar sist, för sju år sedan, och vad behövde återinförskaffas. Därefter bar det iväg till Horbach där vi skaffade det som saknades.
***
It feels a bit incredible that already six weeks have passed since Frasse and Heidi met. She is in the last trimester now. Fetus are 7 cm long and placenta is no longer wider than a fetus.
Time has also come to think of preparing the puppy room that should be ready in one week's time. So after we finished working today we looked into what remains from when Anja got her last litter seven years ago and what needs to be bought. When that was cleared out we drove to Hornbach and bought what was missing.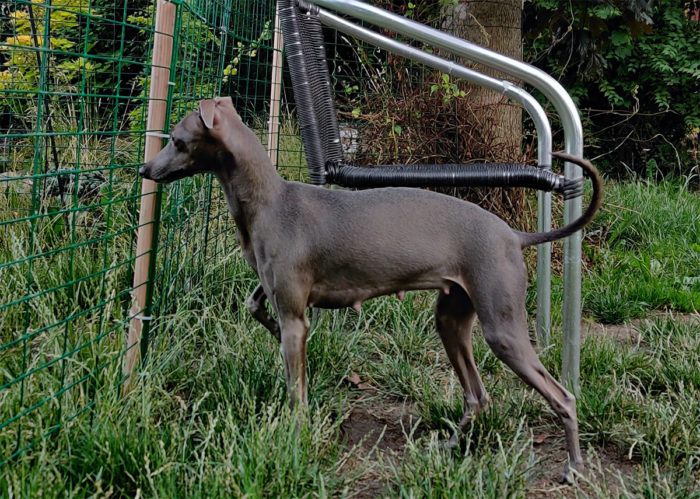 2020-07-11 (5w+3d) Day 38 of 63
Härligt med lite mera sol och värme som vi fick idag. Hundarna bara älskar vara ute i solen och det gör även vi. Jag lyckades för en gångs skull få en OK bild på Heidi från sidan när vi var ute mitt på dagen. Hennes mage växer som bara den och här nedan kan ni se hur mycket den egentligen har växt jämfört med hur den ser ut när hon inte är dräktig. Skall jag försöka mig på en gissning av antalet valpar idag skulle jag gissa på 4-5. 
Fostren har på fyra dagar dubblat sin längd och är idag hela 6 cm stora. 
***
It is so nice to have sun and heat here in south of Sweden again. Dogs just love being in sun, and so do we. Finally I got a chance to take at least one OK picture of Heidi from the side when we were on a walk around lunch time. Her belly is growing fast and you can see how much it has grown compared with when she is not pregnant. If I should guess how many puppies are hiding in there I would guess on 4-5 puppies. 
Fosters have doubled their length in just four days and are now 6 cm long.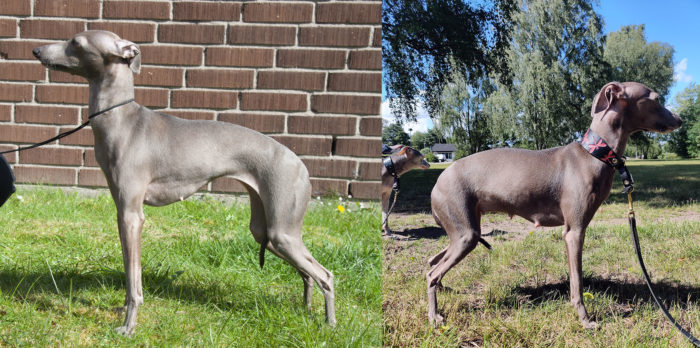 2020-07-09 (5w+1d) Day 36 of 63
Igår passade vi på att väga Heidi och det visade sig att hon hade gått upp 500 gram sedan parningen. Det är en hel del viktuppgång för att vara såhär tidigt i graviditeten. Tyder det på att hon gömmer många valpar i magen? Kanske. Vi kommer definitivt behöva hålla ett öga på hennes viktuppgång. 
***
We took the weight of Heidi yesterday. She gained 500 gram since the mating. It is quite much for being this early in the gestation. Does it means that she is hiding many puppies in her belly? Probably. We will definitively need to keep an eye on her weight increase.
2020-07-07 (4w+6d) Day 34 of 63
En ny bild på lilla damen som nu befinner sig i dag 34. Hon älskar ligga bredvid mig eller på mina ben och låta mig klia henne på magen och massera hennes rygg och ben. Samtidigt som vi myser så kan jag inte låta bli och undra hur många valpar som egentligen gömmer sig i hennes mage? 
För att försöka hitta svaret på den frågan utgår jag ifrån min bibel "Miller's Anatomy of the Dog" som säger att ett beagle foster är 3,2 cm långt under dag 34 men samtidigt är fortfarande mindre än placentan det ligger i. Så nog gömmer det sig minst ett par, om inte fler, små liv där i. Skall bli sååå spännande att få träffa de alla för första gången. 
***
Here is one new picture taken today, on day 34. Heidi loves to lay down next to me or on my legs and to let me scratch her growing belly and to massage her back and legs. At the same time as we are cuddling like that I can't think of anything else but trying to figure out how many puppies are hiding in her belly?
To try get an answer to that question I always look in my bible "Miller's Anatomy of the Dog" that says that a beagle fetus is 3,2 cm long during the day 34 but still the smaller than the placenta that surrounds it. So if I compare it with Heidi's belly I would say that there are at least a couple, if not more, puppies hiding in there. It is going to be so exciting to meet them all for the very first time.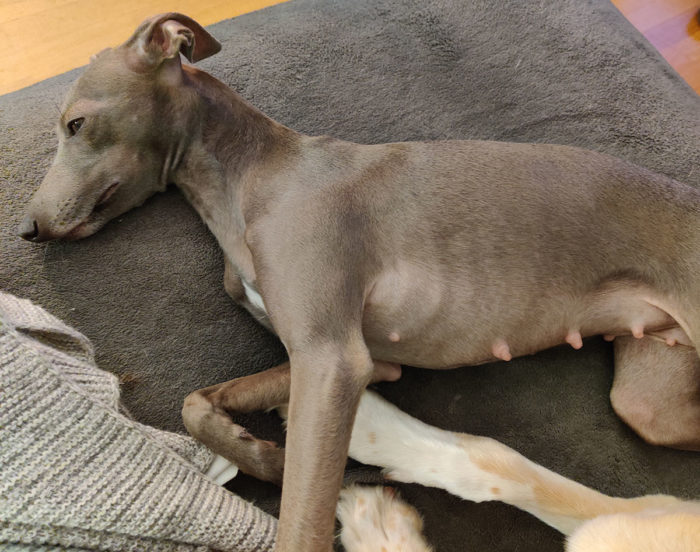 2020-07-05 (4w+4d) Day 32 of 63
Vi befinner oss i mitten av dräktigheten nu och lilla damen mår bra. Hennes mage växer för fullt och det syns tydligt på bilden här nedan. Den tog jag imorse. 
***
We are in the middle of the pregnancy now and little lady is feeling well. Her belly is growing steadily and you can see it clearly on the picture here below that I took this morning.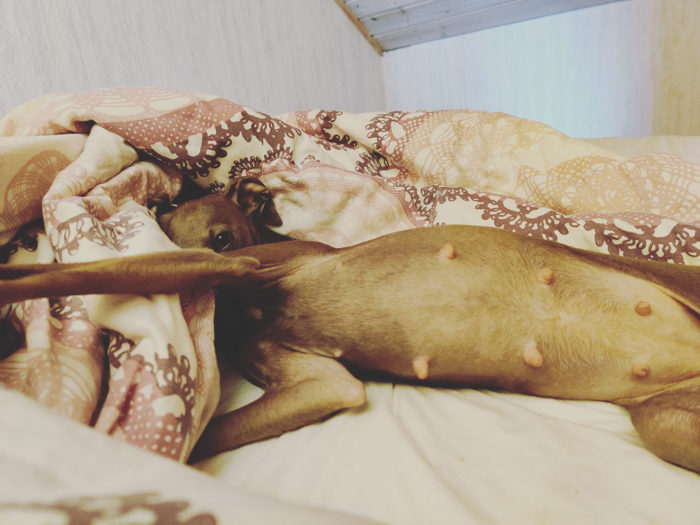 2020-07-03 (4w+2d) Day 30 of 63
Tiden går fort och vi är redan nästan halvvägs igenom dräktigheten. Någonting jag ofta tänker på men som jag inte har en aning om är hur det känns för er som hoppas på en valp ur denna kull. Går er tid fort eller känner ni att tiden masar sig fram? Har ni ett sätt att få tiden att gå fort? 
Jag har så fullt upp med vardagsbestyr att mina dagar bara flyger förbi. 
***
Time flies and almost half the pregnancy has passed. Something I often think of but what I have no idea about is how this feels for you that are hoping for a puppy from this litter. Does your time passes quickly or do you feel that it goes by really slowly? Do you have something that makes the time go by quickly?
My days are full of daily activities that my make my days pass in the blink of an eye. 
Bilden är tagen 30 juni – på dag 27 och redan går det att se en liten mage. 
This picture is taken on day 27 and it is possible to see a little belly already. 
2020-07-01 (4w+0d) Day 28 of 63
Nu börjar det hända saker känner jag. Ikväll insåg jag att Heidis bröstvårtor har blivit förstorade och har ändrat färg från blek-rosa till skrikande-rosa. Magen har växt lite den också men hon är fortfarande bra på att dra in den så att den knappt syns när hon står fint. Men jag har inga fler tvivel. Heidi är dräktig.
***
Things are happening now. This evening I noticed that Heidi's nipples got bigger and that they also changed their colour from pale pink to bright pink. Her belly has grown a bit but she is still very good at keeping it hidden when she stands nicely. But I have no more doubts – Heidi is pregnant.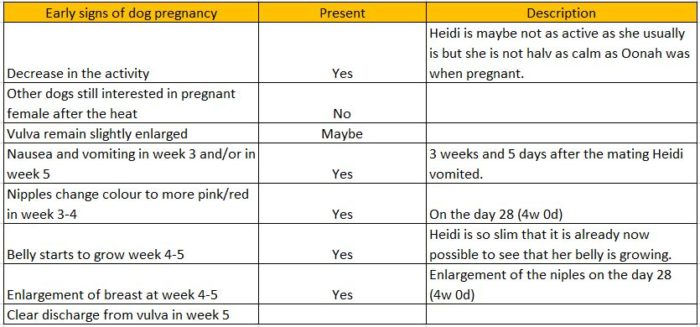 2020-06-29 (3w+5d) Day 26 of 63
Idag skulle jag definitivt säga att Heidis mage har börjat växa. Hon kräktes också mitt på dagen. Upp kom bara all damm hon hade käkat upp de senaste dagarna. Så fortfarande inte hundra procent säker på att hon är dräktig men rätt så säker ändå.
***
Today I feel confident to say that Heidi's belly has started to grow. She also vomited today. Upp came only all the dust she was eating these last days. So I would still not say that I am 100% sure that she is pregnant, but I am quite sure that she is.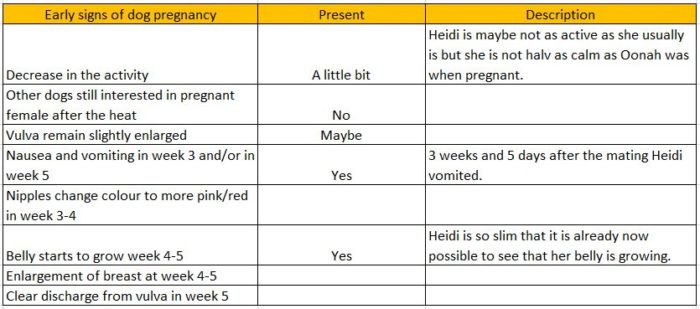 2020-06-26 (3w+2d) Day 23 of 63
Det är fortfarande omöjligt att veta om denna lilla dam gömmer bebisar i magen eller om  hon lurar oss alla.  Hon visar inga tecken på det ännu. Däremot så har hon börjat leta efter dammtussar här i huset då de uppenbarligen smakar toppen. Detta kan vara det första och det sjukaste tecken på dräktighet jag någonsin varit med om. 
***
 It is still impossible to know if this little lady is hiding some puppies in her belly or if she is fooling us all. She is not showing any signs of it yet. What she did start with is to search after dirt on the floor of the house as it apparently tastes delicious. 
2020-06-21 (2w+4d) Day 18 of 63
Om ungefär 3 dagar borde Heidi visa de första tecken på dräktighet. Det är nämligen då som de befruktade äggen borrar in sig i livmodern. Detta kan resultera i att tiken blir illamående. Hur visar hundarna att de är illamående? Oftast vägrar de äta och ibland kräks de. Nu är Heidi ett matvrak så det är långtifrån säkert att hon kommer matvägra. Från denna tidpunkt kommer hennes mage börja växa om hon nu är dräktig.
***
In about 3 days the first signs of potential pregnancy should appear. It is during day 20-21 that implanting of the blastocysts in the uterus happens. This can result in a female feeling dizziness. How do we see that dogs are feeling dizziness? Often they refuse food or even vomit. As Heidi is never refusing food it will not be easy to notice her being dizzy if she don't vomit. From the time that the implementation happens her belly will start to grow.
2020-06-17 (2w+0d) Day 14 of 63
Idag är det exakt två veckor sedan parningen. Ännu är det omöjligt att se om Heidi är dräktig eller inte och hon beter sig precis som vanligt. Jag tror att de tidigaste tecken på en eventuell dräktighet kan komma nu på söndag eller i början på nästa vecka. 
***
Two weeks have passed since the mating. For now it is impossible to see if she is expecting or not as she is behaving just as usual. I believe that the first signs of possible pregnancy will come at earliest on Sunday or in the beginning of next week. 
2020-06-10 (1w+0d) Day 7 of 63
Idag är det en vecka sedan Heidi träffade pojken. Hon är nu definitivt ute ur sitt höglöp och jag skulle vilja säga att hon är lugnare nu än vad hon någonsin har varit. Hon försöker inte bryta sig ur trädgården längre som hon försökte göra förr, löp eller ej. 
***
One week has passed since the boy and Heidi met. She is no longer in the worst part of her heat and I would like to say that she is more calm now than ever before.  She is not trying to break out from our garden anymore, which was what she was trying to do continuously no mather if she was within or not in the heat. 
2020-06-04 (0w+1d) Day 1 of 63
Igår, på en underbar och solig dag, träffades Heidi och pojken. Båda tycket om varandra men det var speciellt Heidi som blev helt tokig i pojken. Det var härligt att se hur förtjust hon blev i honom och hur hon gjorde allt hon kunde för att charma honom.
Nu måste vi vänta åtminstone i tre veckor innan vi kommer kunna se de första tecken på en eventuell dräktighet. Här nedan kan ni se vår beräkning på var i löpet Heidi var på parningsdagen och vad det betyder, baserat på den uppmätta progesteronhalten.
***
Yesterday, on a beautiful and sunny day, the boy and Heidi met. They both liked each other very much. Specially Heidi was totally into this boy. It was so fun to see her run around trying to get his full attention. 
Now we need to wait for at least three weeks before we can notice the first signs of pregnancy. If I, witht he help of progesteron values, try to estimate when in the heat Heidi was on the day of mating I get following: 

2020-06-01
Snart kommer Heidi att träffa den tilltänkta pojken. Just nu visar hon väldigt tydligt att det är just det hon vill genom att låta och ställa sin rumpa framför alla våras ansikten att vi bara vill få det här överstökat.
Och bara för att kontrollera var hon är i sin löpcykel så testade vi henne idag igen och denna gång var resultat 14,93 nmol/l. Nu kommer vi inte testa om henne igen utan kommer låta henne träffa pojken på onsdag.
***
Soon Heidi will meet the boy. She is so making us all understand that she is ready and that she wants this by being very vocal and always putting her back into our faces that all we can think of after such a treatment is: "Just let her meet the boy to get over this." 
And just to check where she is in the timeline we tested her again today and this time the result was 14,93 nmol/l. So we are not doing any more tests now, we are just going to let her meet the boy on Wednesday.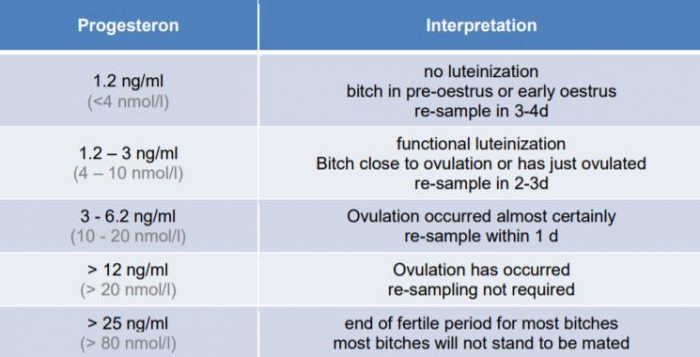 2020-05-30
Ni som följde Oonahs dräktighet förra året vet redan att både David och jag gillar statistik och ni kommer antagligen känna igen er i våra tankar även under Heidis dräktighet. Så för att börja redan nu:
Igår besökte vi veterinären för att mäta Heidis progesteronnivå. Den visade sig vara låg, 4,21 nmol/l, precis som väntat då hon befinner sig tidigt i löpet. Med tanke på det så borde hon inte ställa sig framför våra tikar som hon gör. Men å andra sidan så är det allmänt känt att italienare är värsta divor som alltid är dramatiska. 
Så vad händer nu?
Det blir tre dagar sedan testet på måndag och om Heidi fortfarande är så tokig som hon är just nu borde det betyda att hon är redo att träffa pojken inom några dagar från måndagen.
***
You who followed the gestation of our Star-litter know already that David and I both like statistics. You will definitively feel something like "here we go again" when reading about Heidi's, hopefully, coming pregnancy. So why not start already now:
Yesterday we visited our favourite vet to check Heidi's progesterone level and it was as expected low 4,21 nmol/l. Based on that anyone would say that she shouldn't be showing that she is ready yet. But you can guess what she is doing today… Yes. She is playing with and showing for all other girls in our pack that she is ready by standing still in front of them and lifting away her tail.
What happens now?
It will be 3 days since the test showed 4,21 nmol/l on Monday and if Heidi shows even more urge that day I will know, even without the test, that the time for mating will come in a couple of days.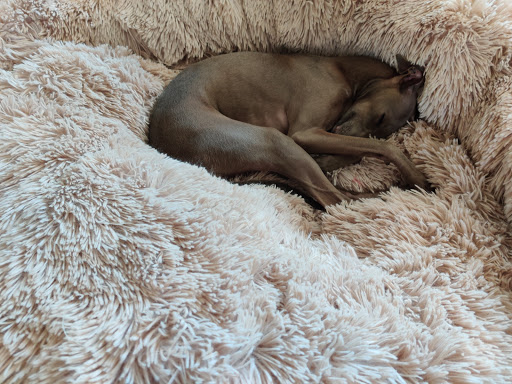 Intensiv lek tömmer en på energi och då är det trevligt att kunna ladda sina batterier på en mjuk plats. 
***
Playing extensively drains ones energy and it is good to recharge the batteries in a soft place. 
2020-05-24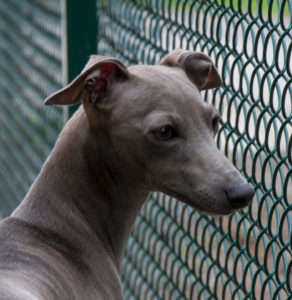 Heidi löper! Det här fotot blev det enda bra foto av Heidi jag lyckades ta under dagens besök på hundrastgården. Jag hade hoppats på att få några OK bilder på denna sötnos idag men hon var mycket upptagen med att springa och nosa runt i hela parken. Den enda stunden hon stod stilla var när hon tittade på en liten hane som gick förbi utanför hundrastgården. 
För vad vi vet så är hon på dag två i sitt löp och hon är redan nu väldigt känslosam. När hon inte sover eller nosar runt utomhus gör hon oss alla tokiga genom att hela tiden kräva full uppmärksamhet. Hon är verkligen min lilla "drama queen".
***
Heidi is in the heat! This is the only OK picture from today's visit to our local dog park. I was hoping to get some decent pictures of this sweet little lady today but she was very busy running around and sniffing over the entire park. The only time she was standing still enough to get a picture without a blur was when she was looking at the cute male dog standing on the other side of the fence.
For what we know it is the second day of her heat and she is already being very emotional. When not sleeping under the blanket or being outdoors she is making all of us crazy by demanding full attention from all of us. She is my sweet drama queen.