Saluki puppies 2019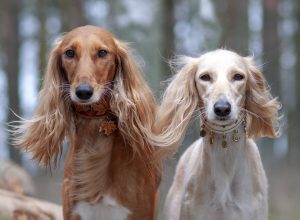 An fantastic journey just begun!
Welcome to join us on this exciting journey towards Chili's and Oonah's puppies. On this page we will log the happenings during Oonah's pregnancy. It will be a mix of what is happening, our thoughts about it and facts about dogs' pregnancy. We hope that you will like the reading. You can find more about the parents of this litter >>HERE<<
Heat start: 14th March 2019
Progesterone level: 24,39 nmol/l on 25th March
Mating: 24th, 25th and 27th March 2019
Estimated date of birth: 27th May 2019
Week 10 (26th May – 1st June 2019)
2019-05-28 (9w+2d) Day 65 of 63
Today our small family has increased with 10 beautiful little stars.  We welcome 4 males and 6 females to kennel Sommarvinden's family! Oonah  did a great job during these past two days and managed to deliver all 10 puppies by herself. She was brave during the labour and is taking perfect care of all ten babies. We have two golden girls, 4 creme girls, 1 grizzle boy and 3 creme boys. This post is the last in this pregnancy journal.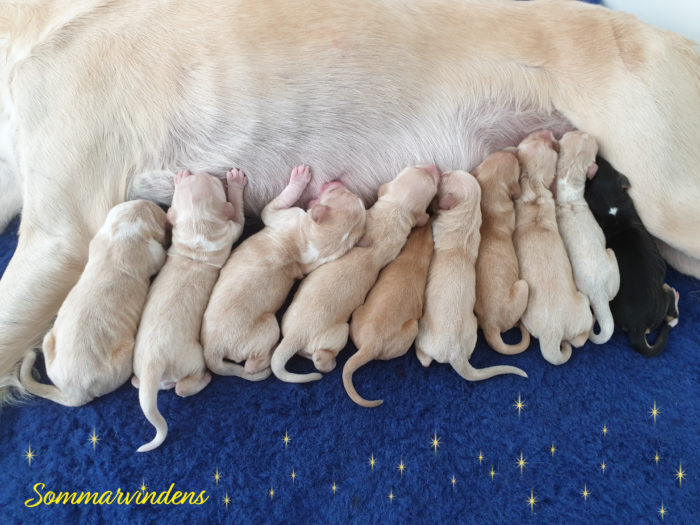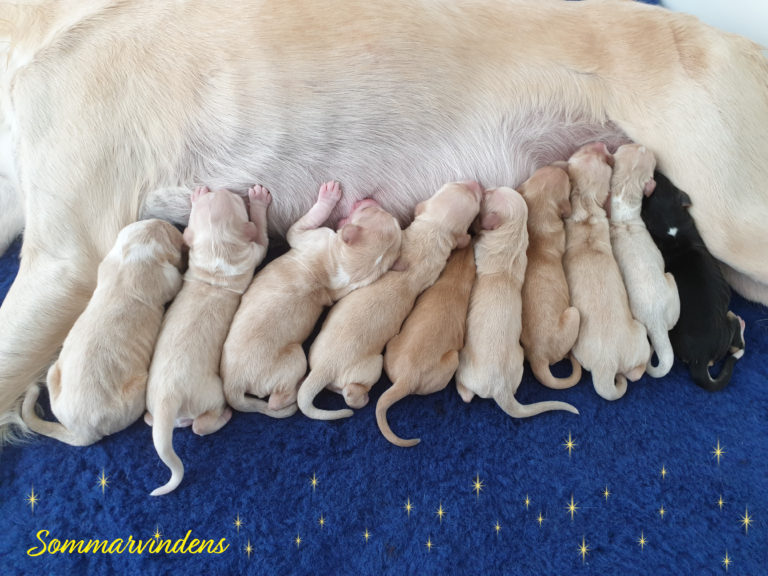 2019-05-26 (9w+0d) Day 63 of 63
Day 63. According to our statistics this will be the day D. But I doubt it. Oonah's temperature is still not dropping and she is not showing any signs of being in labour. However the day is young (11.21 AM) so a lot can happen. And if she decides to wait until Monday my father will get the best birthday gift ever.
Update at 23.19 – And the news are – we are still waiting… I am sorry to make you all disappointed. We can now confirm that our puppies will not have 26th May as their birthday.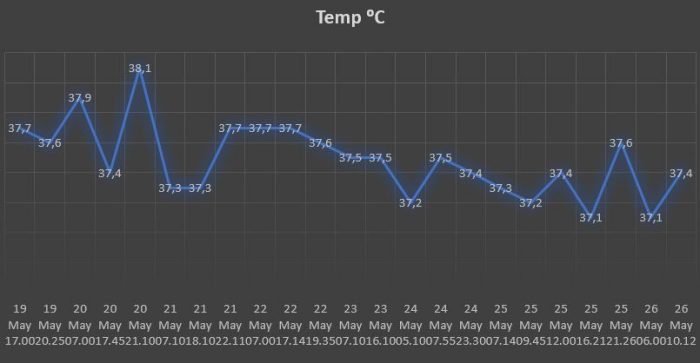 Week 9 (19th May – 25th May 2019)
2019-05-25 (8w+6d) Day 62 of 63
Day 62. Oonah was restless this night. She almost made me think that she was going to start giving birth this morning. But when the morning came she calmed down and has been sleeping since then. There has also not been clear temperature drop yet. So we will probably need to wait for the puppies until Sunday. No matter how much I would like them to be born as soon as possible I still feel sick and tired so I appreciate each additional day I can get to get better.
2019-05-24 (8w+5d) Day 61 of 63
Day 61 is almost over (23:30) and still no temperature fall or any signs of the start of the birth.
2019-05-23 (8w+4d) Day 60 of 63
Day 60. This will be a very short update as I am home with fever and sore throat. Oonah is doing fine. Her temperature is still normal and she is not showing any signs of birth start. Puppies awaited at the earliest this weekend.
2019-05-22 (8w+3d) Day 59 of 63
Day 59. That lasted long. I am thinking of me not publishing anything until puppies have been born. I really like to update my blog. It helps me keep calm. I am guessing that you too are doing your favourite things to keep you calm these last days of Oonah's pregnancy. I wonder what these things you are doing are? ?
Today I don't have so much to say except that Oonah's temperature was normal this morning and she herself is not showing any signs of the approaching birth. So probably no puppies will be born today. And to be honest with you I don't think that anything will happen before this weekend.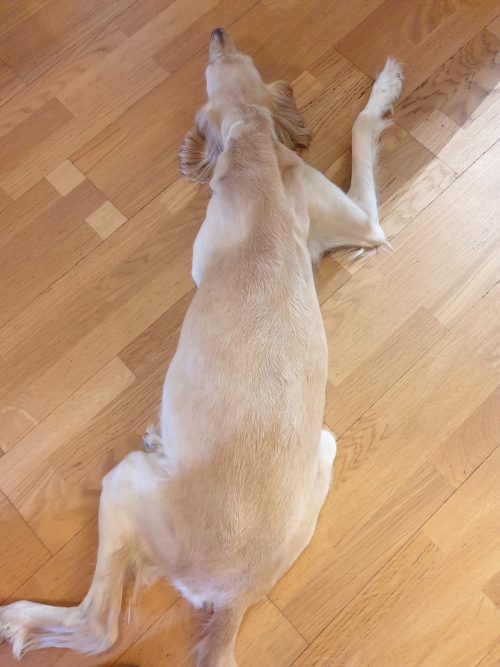 2019-05-21 (8w+2d) Day 58 of 63
Day 58. This will probably be the last update prior to puppies being born. We are taking it very easy, or not really all of us are taking it easy – puppies are rocking inside Oonah's belly.
Day before yesterday I decided to give our new thermometer a chance as it is fast and soft, prior to deciding if I will measure Oonah's temperature or not. As she didn't react to it at all I am going to give it a try. This is how the graph looks for now. I would say that the temperature drop need to go all the way down to approximately 36,7 degrees Celsius before we can say that the birth will start within next 12-24 hours. So as you can see from the graph it will probably not happen today.
The most important thing to remember is that if puppies are born on day 58 or later they will have a good chance of surviving and will not be seen as prematurely born.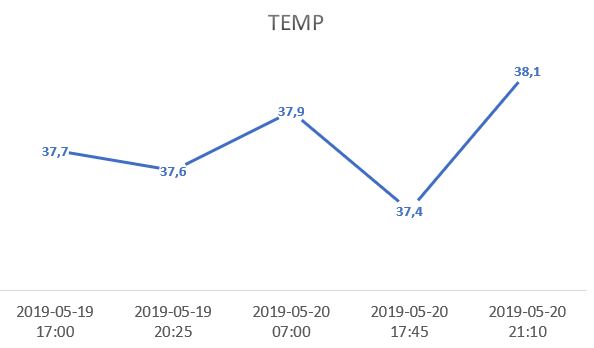 2019-05-19 (8w+0d) Day 56 of 63
Eight full weeks have passed since the first mating. This means that we only have one week to go – week nine. I can't say anything else except that I am very excited. I am longing to find out who these dancing creatures inside Oonah's belly are? Which colours and gender do they have? How many are they? And the most important question – are they healthy?
At the same time it is not fun to see my little baby so transformed. During these last days she has clearly showed that she is disturbed by her big belly. She is so disturbed by the situation that she refused to eat her food yesterday. She just looked at it even when I topped it with her favourite – chicken liverwurst.
All of this made me unsure of if I should measure Oonah's temperature or not. She is being uncomfortable enough as it is without me putting a thermometer into her rear. We will know when the birth starts anyway as it will be hard to miss.
Week 8 (12th May – 18th May 2019)
2019-05-18 (7w+6d) Day 55 of 63
The question occupying my mind today is the possible date of birth of Oonah's puppies. You maybe noticed that I wrote that the due date is 27th May (day 64) on the top of this page. There is a reason for that. We have a lot of birthdays in May: Anja on 16th, Oonah on 20th, Ida, my oldest daughter, on 23rd and my father on 27th May. Theoretically puppies could be born either on 23rd or 27th or at any other day in between. But when I wrote 27th on the top of the page I was thinking of my elderly father whom I love very much. What a gift it would be to get a litter on his birthday. Off course it would be a wonderful gift to get puppies on 23rd May too.
The ones that will decide when they will be born are inside Oonah's belly. Once they are ready, their adrenals will signal to Oonah that time has come. Her progesterone level will drop and they will be born. We simply need to wait and see.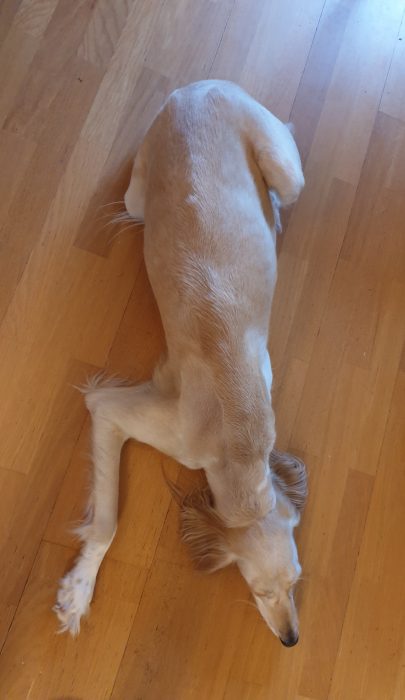 2019-05-16 (7w+4d) Day 53 of 63
Oonah is very tired after our walks now even if we take it very easy. She has also found the place where she plans to get her puppies. It is in our garden under one bush. It is there she is digging the perfect whelping place. I am afraid that it will be difficult to get her to like our manmade whelping box.
You maybe think that not so much has happened with puppies since yesterday, but they grew with 8 mm – in just one day! Incredible.
As of Tuesday or Wednesday next week I will start measuring Oonah's temperature. When the birth starts progesterone level will drop and as it regulates the body temperature the temperature will also drop. From 38 degrees Celsius to almost 36 degrees Celsius. Once that happens, the birth will start within 12 to maximum 36 hours. And just to make it more interested, Oonah's body temperature will go up and down during several days before that final drop that initiates the birth start.
2019-05-15 (7w+3d) Day 52 of 63
Days go very fast now and the puppies in Oonah's belly grow equally fast. Now they are 130 mm long. I feel that the most beautiful way to start my day is to feel their tiny kicks from all around Oonah's belly while she lays close to me in the morning.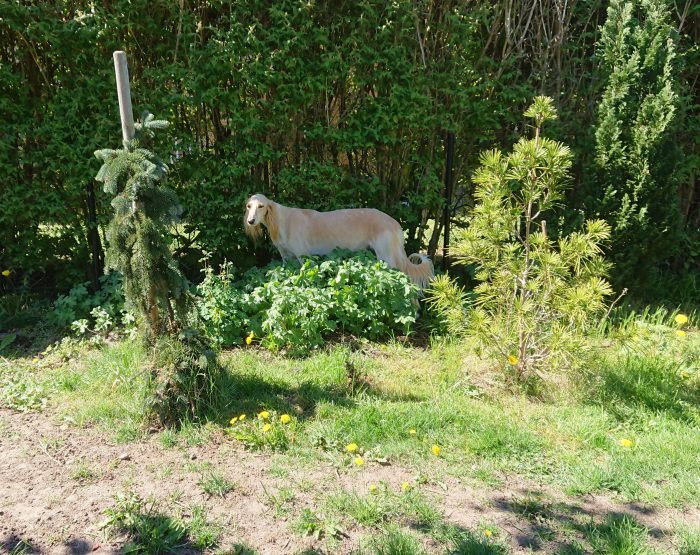 2019-05-13 (7w+1d) Day 50 of 63
Day 50 and Oonah has completed seven weeks of her gestation. Her body is continuing to change and since a couple of days ago not only her nipples have become bigger – even her breasts are increasing in volume now.
Yesterday I felt not only one but two puppies move inside Oonah's belly – one on the each side of her belly. Maybe in one week's time, if not earlier, I will be able to share a video of how it looks like when puppies move around in the belly. Each foetus is now 107 mm long and the uterus is so large that individual swellings are no longer apparent. Adjacent foetuses are in contact.
We spent the most parts of our weekend with some gardening, calm walks and building the whelping box. We managed to complete it just in time for Oonah to spend the night between Sunday and today in it with me sleeping just outside of it. She didn't spend the entire night in there as it is unfamiliar to her but she did sleep in there for 2 x several hours. She has almost two weeks to adjust to it and I am sure that she will spend more hours in there for each night that passes. She is not forced to get in there and she is free to leave the whelping box whenever she wants.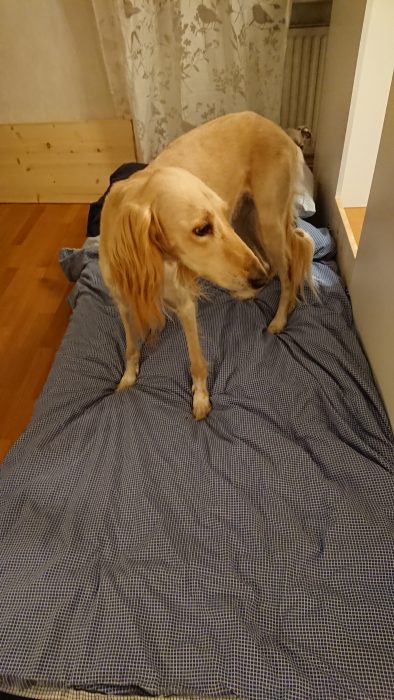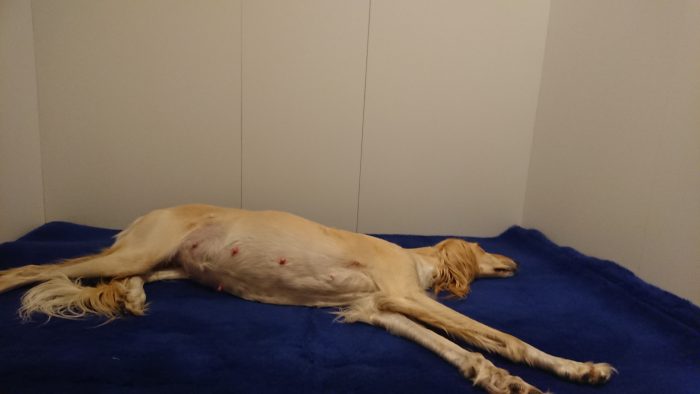 Week 7 (5th May – 11th May 2019)
2019-05-11 (6w+6d) Day 48 of 63
I am all over the moon as the happening I was so longing for finally happened this evening around 21.30 CET! I am talking about that unforgettable feeling when you for the first time experience a puppy kick you from the inside of the belly.
I was on my way to take a shower when I saw Oonah laying on the floor. It was hot today so she was happy to be able to cool herself. I took the below picture and placed my hand on her belly. Maybe, just maybe, I would feel something I thought. It is only day 48 so still a little bit too early to feel anything. And then it happened. Just like that. It was not a hard kick, more of a "high five" I would say. But unmistakably it was a puppy paw move.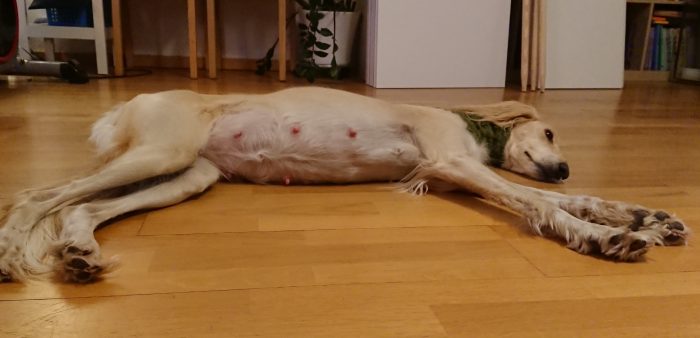 Some days, like today, I feel very much pity for my little girl. She is not her self now when she doesn't run as she used to, when her belly is growing and she has lost her beautiful look. And as if that wasn't enough I am now putting a snood over her ears. We did that before, when she was younger, but she never liked it so much so we stopped (the truth is – she was an expert on shaking it from her ears ). Now I feel that I don't have any choice but to do it again. During the birth and while having small puppies it will save her ears from getting dirty. The last thing I would want to do is to clean the puppy poo from them. You can see on the picture that she is not happy to wear the snood. Her entire body-language is showing it. Sometimes I wish that I was good at knitting so that I could try to make a perfect snood, but I am not.
The little ones are almost 10 cm long now. In just a couple of days now we should be able to feel them move inside Oonah's belly.
I would like to thank you for following our journey and to wish you all a beautiful weekend.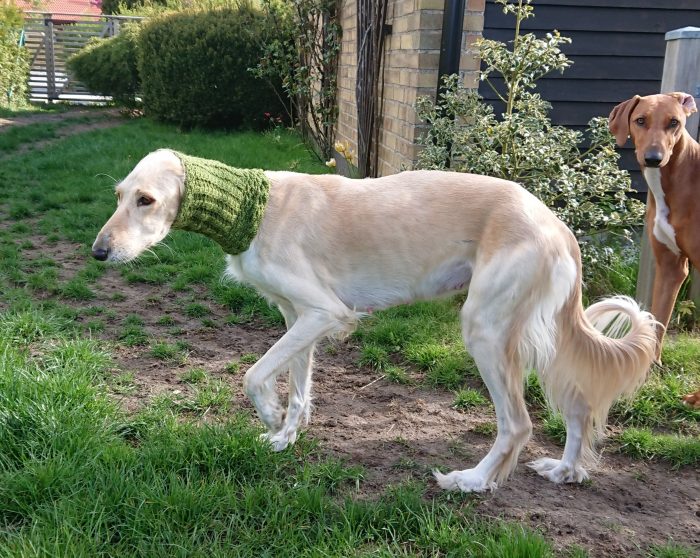 2019-05-09 (6w+4d) Day 46 of 63
Each time I share a new picture of Oonah with the experienced breeders, they get back to me that they believe that she is hiding many puppies in her growing belly. It kind of scares me. I find around seven puppies being the perfect number. This as:
Seven puppies is not too many for Oonah to take care of without getting totally exhausted. I hope that this will be a positive experience for her and not a struggle.
Finding perfect homes for seven puppies is easier than finding perfect homes for ten puppies. Even if this litter seams to be very popular and we have so many seriously interested and very nice families that we feel that we can find a perfect homes for ten puppies, there will always be some change of hearts. Spring is the time when many puppies are being born and as much as we can't promise a puppy to anyone before they are born we don't expect anyone not to look after another litter if that is what they want. The only thing we do expect is the transparency. If you are in contact with another breeder, please let us know so that we can keep our puppy waiting list updated.
If I look at the possible litter size from the fact based perspective there is a big chance for more than seven puppies. This as:
The litter size is inherited on mother's side and Oonah has nine siblings.
Mating has been done at the optimal time if taking into the consideration the progesterone test results.
Younger bitches get larger litters than older ones do.
Regardless of what we think, we will know the facts about the number, sex and colours in about 16 days.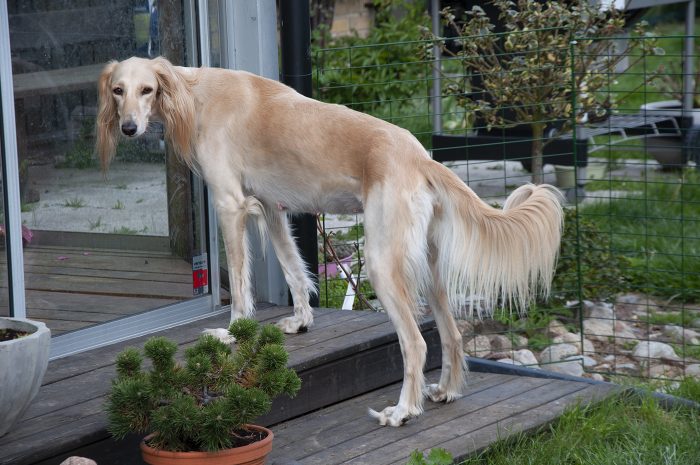 2019-05-08 (6w+3d) Day 45 of 63
Day 45. According to my information bible a foetus is around 86 mm long today. Colour markings appear and body hair starts to grow.
When I walked into our living room earlier today this is how she was sitting and waiting. I took my mobile and asked her if she want to go out for a walk at the same time as I took this picture. She always listens very carefully to what I am saying. Correction: she always listen very carefully when we are indoor. Outside our house, there are too many things to explore so she don't have time to listen to what I am saying as carefully as she does when at home.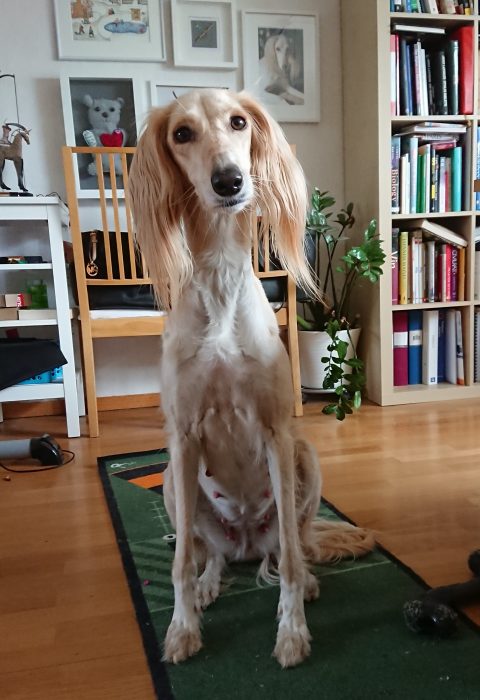 2019-05-07 (6w+2d) Day 44 of 63
Days are passing by fast now and we are already on day 44. Oonah is doing fine. In about one week's time we will be able to feel the movement of the little ones. Until then I will mostly write about the unimportant and boring things such as the below topic.
Now the last "heavy" item needed for the puppies is bought – a puppy pen. From the start we were thinking to buy a puppy pen I shared a link to in the one of my previous posts but we changed our mind. The puppy pen we didn't buy had walls made of net. Net is something we learned to avoid when we had our last italian greyhound litter.
In that litter there were 2 females and 1 male born. The male, Baldi, should have been called Houdini instead. He was an expert on getting out from puppy pens. No matter how high the pen was he climbed over. I don't know how many times I found him where he was not supposed to be and carried him back to the pen. And every evening we would leave him sleeping with his sisters in the puppy pen just to find him peacefully sleeping under our bed in the morning. The pen we had at that time was made of net. So now we decided to buy a pen made of bars. Hopefully there will be no Houdini-puppies in this litter.
This pen will not be used closed as on the picture. It will be "open" and used as the wall on the one side of the puppy area we will have in our living room.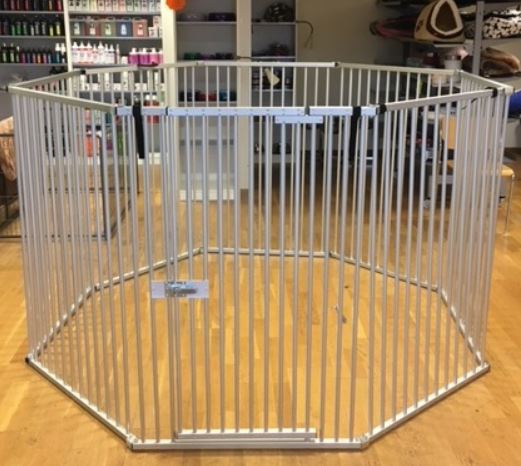 2019-05-06 (6w+1d) Day 43 of 63
Foetuses are growing fast now. +5 mm in just one day and are now 75 mm long.
Oonah's belly and the circumference of her ribcage are growing too. I don't remember my italian greyhound Anja growing this fast when she was pregnant. Specially not over her ribcage. But on the other hand she only carried 4 puppies. I am sure that Oonah is carrying several more.
So far she is coping well with it. She can still run after Tesla, to my concern, and she can still jump up on the bed and sofa with no effort. The last week of her pregnancy, if not sooner, she and I will start to sleep in our living room. She in her whelping box and I on the mattress placed on the floor. This to make it easier for her but also to give her a chance to get used to the whelping box.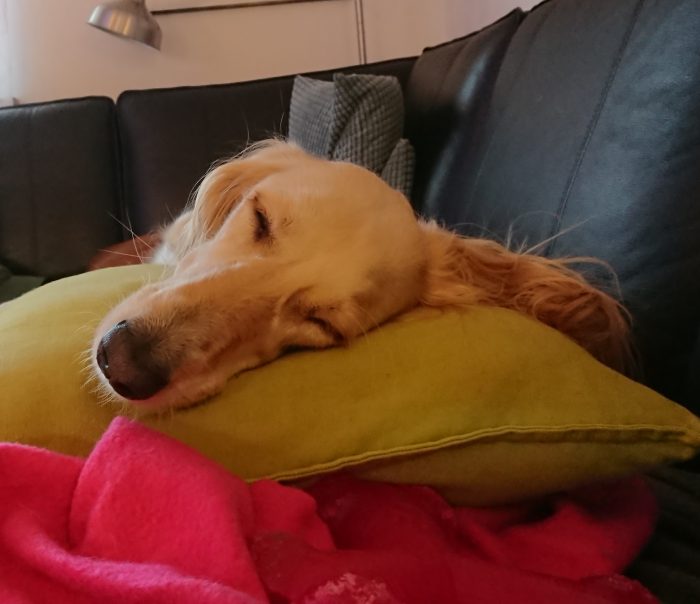 2019-05-05 (6w+0d) Day 42 of 63
We are entering week 7 today. According to Miller's Anatomy of the Dog an average Beagle foetus is 70 mm long on the 42nd day of gestation. This probably means that a foetus of a saluki is slightly larger. Oonah is feeling good and is very hungry. I have never before experienced her being so eager to eat as she is now.
I couldn't hold myself from getting the ribbons as soon as possible so we went shopping yesterday. I was not only looking for the ribbons but also for the suitable fabric to use when photographing the puppies. I remembered seeing some cute miniature Persian carpets a couple of weeks ago. They were just a bit larger than an A4 paper sheet and as salukis are Persian sighthounds I thought that it could be cute to use them when photographing the little ones. We also got some lime green and dark red crushed velvet for the same purpose.
All this shopping is giving me feelings of déjà vu from when I was shopping this much for my daughters during my pregnancies even though I never bought fabric to use when photographing them.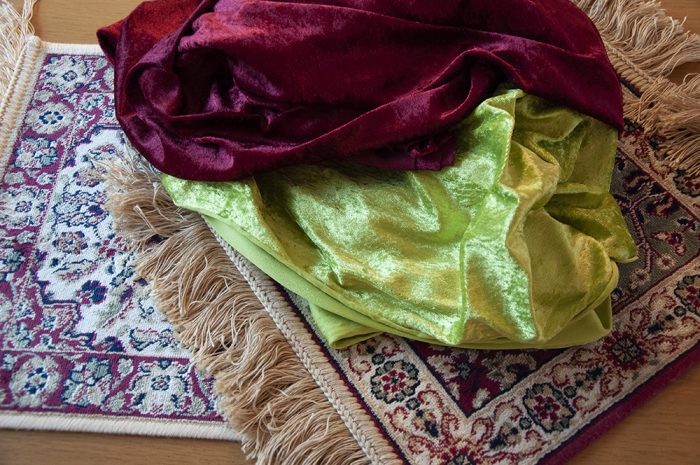 Week 6 (28th April – 4th May 2019)
2019-05-04 (5w+6d) Day 41 of 63
I wasn't planning on posting anything today but then I shot this photo and I couldn't not to share it with you. As we are not expecting puppies so often, each day of Oonah's pregnancy feels very special and amazing. I could spend entire day just looking at her and kissing her cute belly. At the same time I feel so grateful and blessed for being so close to her.
I see these posts as a window that enables you to come close to Oonah on this journey but also as a something that you (our future puppy owners) and we will be able to return to. I want to be able to remember each day of this journey for as long as I live.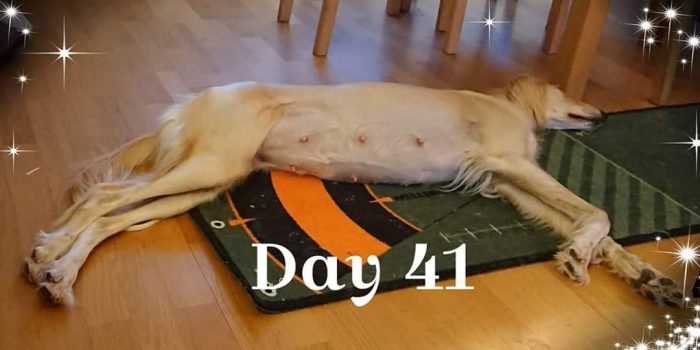 2019-05-03 (5w+5d) Day 40 of 63
It is day 40 today. Oonah is now eating everything we give her which feels good. Her belly is measuring 51 cm at her hips. It has grown with 7 cm since prior to her pregnancy. It feels like she has been trying to keep her belly hidden by using her muscles but now the belly is getting too heavy for her to keep hidden. It looks huge, especially when she is resting.
As you can see from today's picture, Vetbeds arrived today but will remain in the package for a week or two. I will take them out and wash them at the same time as we start to build new whelping box.
This evening I was looking for something to tag the puppies with as there is a good chance that some of them will look like twins so I got very happy when I came across these ribbons with small stars pattern. As you may have noticed this litter will have "a star" theme for their names so these ribbons will be perfect. I know that we need to be careful when using any kind of ribbons on small puppies so they will be used just if really necessary.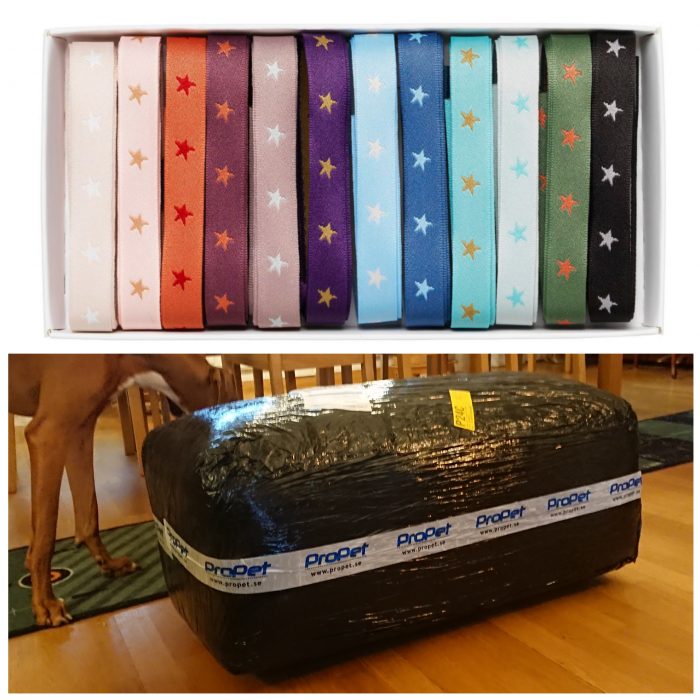 2019-05-02 (5w+4d) Day 39 of 63
It is day 39 today and each foetus is now 60 mm long. They increased their length with more than 1 cm in just two days. Oonah's belly is growing too and I thought that I could take a new picture of it for you to see the difference compared with how she looks when she is not pregnant.
Each day, when Oonah lays close to me I pet her on her growing belly. This is something that both of us enjoy. And in a about ten days or so I will be able to feel her puppies kicking. It is as amazing to feel as it was to feel my own unborn child kick me from the inside.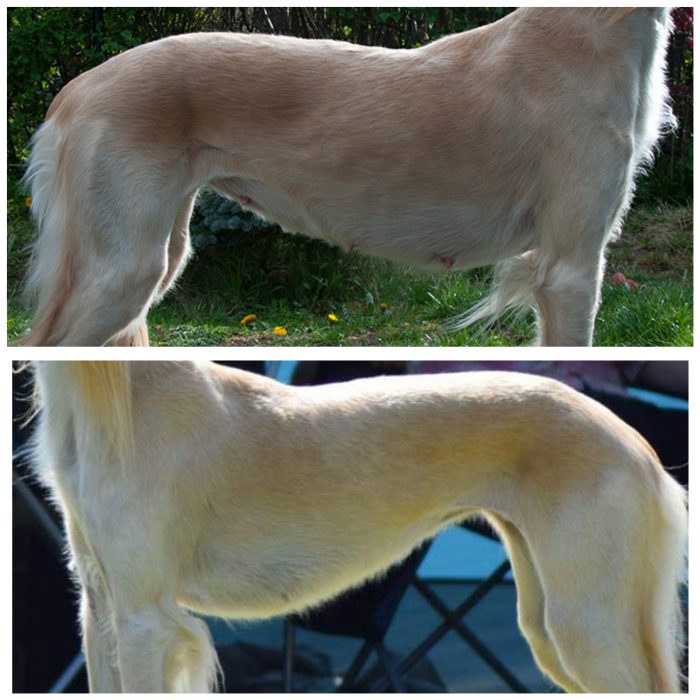 2019-05-01 (5w+3d) Day 38 of 63
It is fun how things work sometimes. With the start at week 4, each time Oonah did something on our walks, I checked if there was any vaginal discharge visible. Not once did I see it. It must have looked very funny for anyone that may have seen me doing it. Then things started to happen and I got 100% confident that Oonah is pregnant even without seeing that famous discharge, so I stopped looking for it. And you can guess what happens when you stop looking for something – it appears. So today, without even looking for it, it was there. I noticed Smilla being more interested in Oonah's area under her tail than she usually is, so I needed to check what was happening. And there it was – a clear mucous discharge in her fur that must have come from her vulva. So now the below table is complete. All signs are there.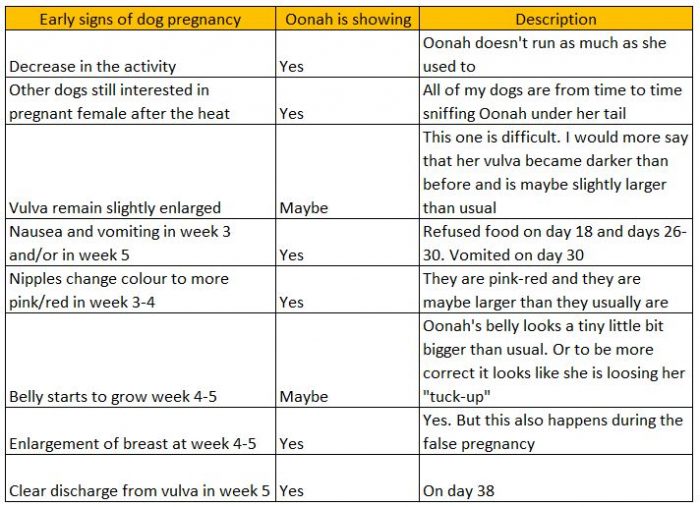 2019-04-30 (5w+2d) Day 37 of 63
Day 37 is here. Each foetus is now 47 mm long according to my main source of the information: "Miller's Anatomy of the Dog". Oonah is feeling good and seams happy. Saga askes from time to time if Oonah knows what is coming and that is a question I can't answer. Only thing I hope is that she will not be in much pain during the labour and that she will love being a mom.
In some positions such as on the picture below Oonah looks quite huge which makes me wonder how big she will be in week 9. Hopefully not too big.
It is crazy how much time one can spend searching for the right things for the "puppy room". As we are building new whelping box we need to buy new vetbed of correct size. Check on that as I just ordered 2 m x 1,5 m of cerise and 2 m x 1,5 m navy blue vetbed. To protect the floor of our living room we even bought 9 sqm of vinyl floor. Next thing we need to get is a puppy pen that will frame the floor. It will be >>this pen<< plus at least two extensions.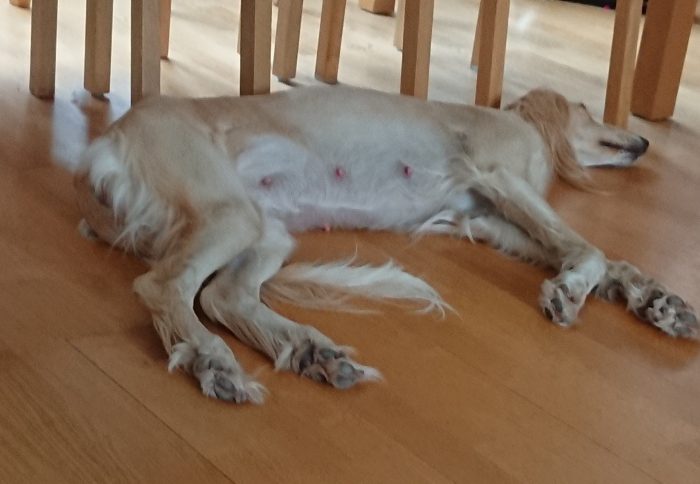 2019-04-28 (5w+0d) Day 35 of 63
Full five weeks have passed since the first mating and the tension of not knowing if Oonah is pregnant or not is gone. She is managing it fine and she also likes the food she is being served now. That is a huge relief.
We used the weekend to get all the materials needed to build the whelping box. As we decided to have it in our living room we needed to think of how to build it so that Oonah still can get the privacy she need to feel safe. We believe that we will manage to give her that.
Below is the picture of Oonah's growing belly, taken yesterday.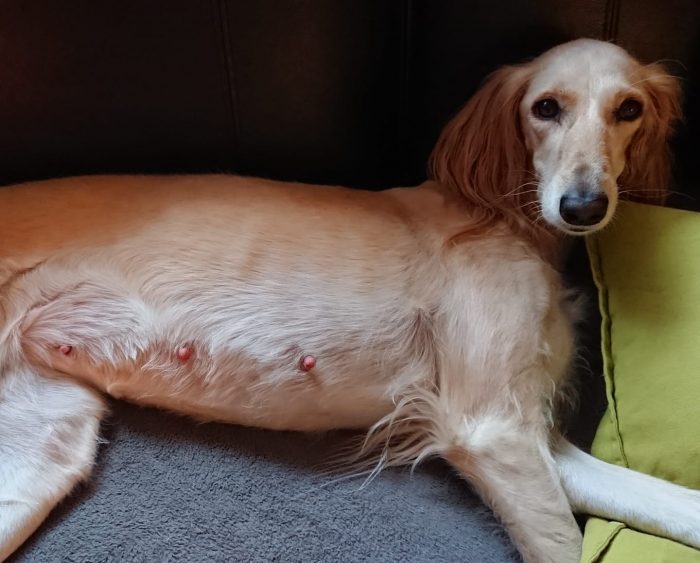 Week 5 (21st – 27th April 2019)
2019-04-27 (4w+6d) Day 34 of 63
Day 34 of Oonah's pregnancy and today I measured her belly close to her hips. It measured 47 cm. I did the same measurement in the week that she met with Chili and it measured 44 cm at the same spot.
So what is happening in the growing belly?
We call embryos for foetuses now. Each foetus is approximately 35 mm long and if we had a chance to hold them in our hands we would be able to see which genders they have. The ossification of the skeleton has started.
In one week's time it will be possible to use the x-rays to get the picture of exactly how many puppies there are. Many breeders do that to be able to determine when the last puppy has been born. We will not do that. Honestly I don't want to do anything to Oonah and her unborn puppies that I would not do to myself when I was pregnant with my girls. And you know how it is, if a woman is even just suspected to be pregnant she would not be allowed to be even close to any x-ray machine. How can it then be safe to take the x-rays of the unborn puppies? Maybe they will be born healthy but will any allergies, immunological or cancer diseases they maybe gain in the adult age be directly connected to that x-rays done when they were in their mum's belly? I don't know. And there are hardly any studies done to determine or exclude any correlations between x-rays and these diseases either. In our family we don't take that kind of risks if not really necessary.
2019-04-26 (4w+5d) Day 33 of 63
Today was the day when we initiated a food change. Oonah wasn't eating much these last days so we were worried that she even wouldn't touch the new puppy food we brought with us home today and which she will hopefully eat from now on and until she stops to breastfeed her babies. Luckily for both her and us she loved it. However we need to keep all fingers crossed that she will like this new food tomorrow too. This is so typical for salukis, even for the ones that are not pregnant. They are generally very picky with their food.
2019-04-24 (4w+3d) Day 31 of 63
We are now half the way through the pregnancy. This means not only that Oonah's belly will start to grow rapidly but also that we only have around two to three weeks to build a whelping box for her. The one we used for our Italian greyhound litters is too small for Oonah. We are planning to build a whelping box that will be 240 cm x 120 cm (length x width). We haven't decided the height yet but are thinking of 60 cm as a good high, possibly even higher. I hope to be able to share a picture of Oonah in her whelping box in a couple of weeks. For now we are just googling a lot to get inspired. We want her to get a comfortable and practical whelping box that both she and the puppies will like a lot as they all will spend a lot of their time in there.
Here is the picture of the whelping box Anja used (our italian greyhound) just when the work on building it was completed. It is 100 cm x 60 cm if I remember correctly and it was built by me and my loving father. It is a simple but at the same time practical whelping box. We will use the same material for Oonah's whelping box but the design will not be the same at all.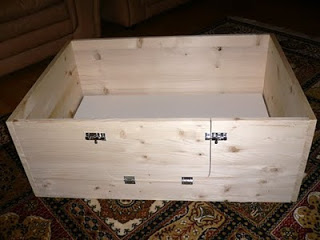 2019-04-23 (4w+2d) Day 30 of 63
I wasn't planning to make an update today. However Oonah vomited earlier today and refused her dinner this evening. She got some meat instead and was very happy with it. So now, with all the signs Oonah is showing, I feel confident to confirm that she is pregnant. I will contact all of you on our waiting list to share these happy news with you. <3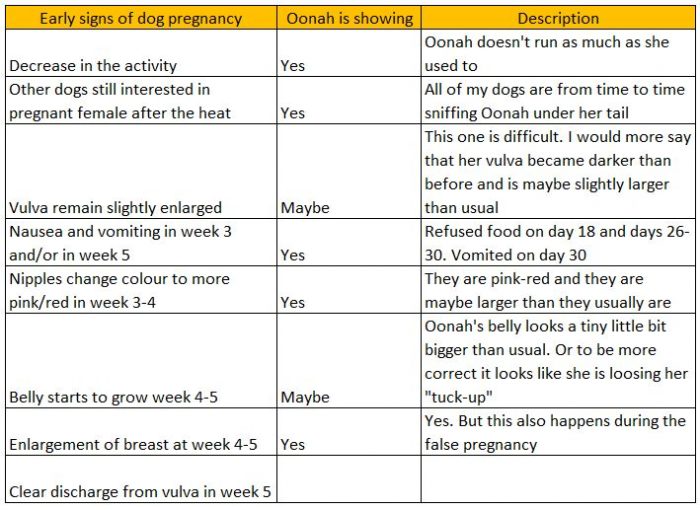 2019-04-22 (4w+1d) Day 29 of 63
There will not be so many words in today's update. Instead there is the below picture for you to check and guess if any puppies are hiding inside of Oonah's belly.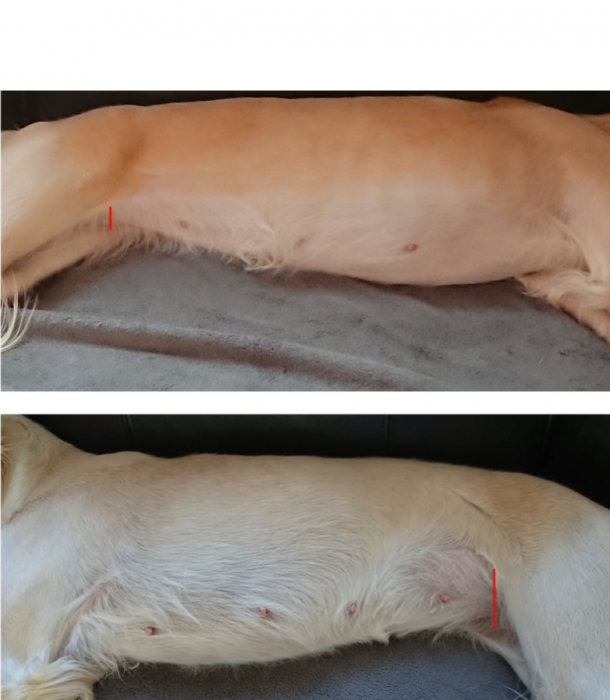 2019-04-21 (4w+0d) Day 28 of 63
Full four weeks and several hours have passed since the first mating and we are so close to finding out for sure if Oonah is pregnant. She has been eating less in three days now, usually refusing her breakfast. She is not sick as she eats her food if I mix it with some yolk. And if I offer her cattle tripe she eats it with as good appetite as she always does. This is off course a very good sign even if hurts to know that she is probably experiencing some nausea. I updated the signs picture so that you can see what the current status is.
Embryos are now 17 mm large and will be 35 mm by the end of week 5.
We haven't decided on ultrasound yet. A part of me would love to know the status for sure and also as soon as possible but a part of me don't want to expose Oonah to unnecessary stress. It for sure is well needed patience training.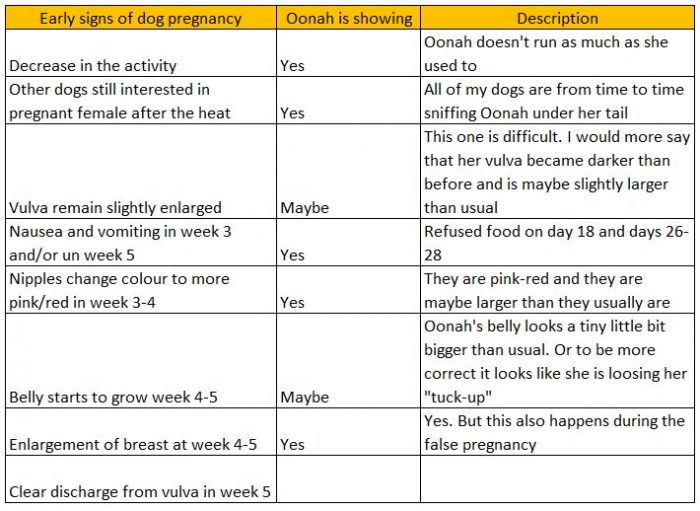 Week 4 (14th – 20th April 2019)
2019-04-19 (3w+5d) Day 26 of 63
This beautiful sunny morning Oonah refused to take her breakfast. She hardly even sniffed at what was in her bowl. Poor girl is probably feeling nausea again. This is common for pregnant dogs around this time. In the evening she just took a couple of bites before she left the kitchen. For now she is easy to persuade to eat anyway. Everything I needed to do to get her to eat up her food in the evening was the same thing what I did a week ago, I added some yolk.
In the middle of next week we will reach the half way through the pregnancy. At that point we will replace Oonah's ordinary food with a high protein food. Until then there is no need to change her food as she is eating premium dry food today. But as the puppies in her belly are growing a lot faster now and as she will be preparing for the lactation period her need for high protein food will increase dramatically. For this reason we will start to give her premium puppy food which contains a high level of proteins, vitamins and minerals.
By then we will also know for sure if she is pregnant or not. For me there is almost no doubt that she is pregnant but I want to be 100% sure of it before I contact you all and share the good news.
Happy Easter to all of you who are celebrating it.
2019-04-17 (3w+3d) Day 24 of 63
Day 24 of Oonah's possible pregnancy and she is now behaving more like usual. She is running around in the garden like she used to do and she chase Tesla all over the place. This is OK as nausea should be present during week 3 and possibly week 5 and not in week 4.
Still no discharge from vulva but I think it is too early for that. I read my notes from Anja's two pregnancies and during both of them she got the discharge in the middle of week 5. For Oonah, week 5 starts on Sunday.
Are her nipples more pink now? Possibly. I would more say that they are slightly enlarged. What do you think when you see the below picture?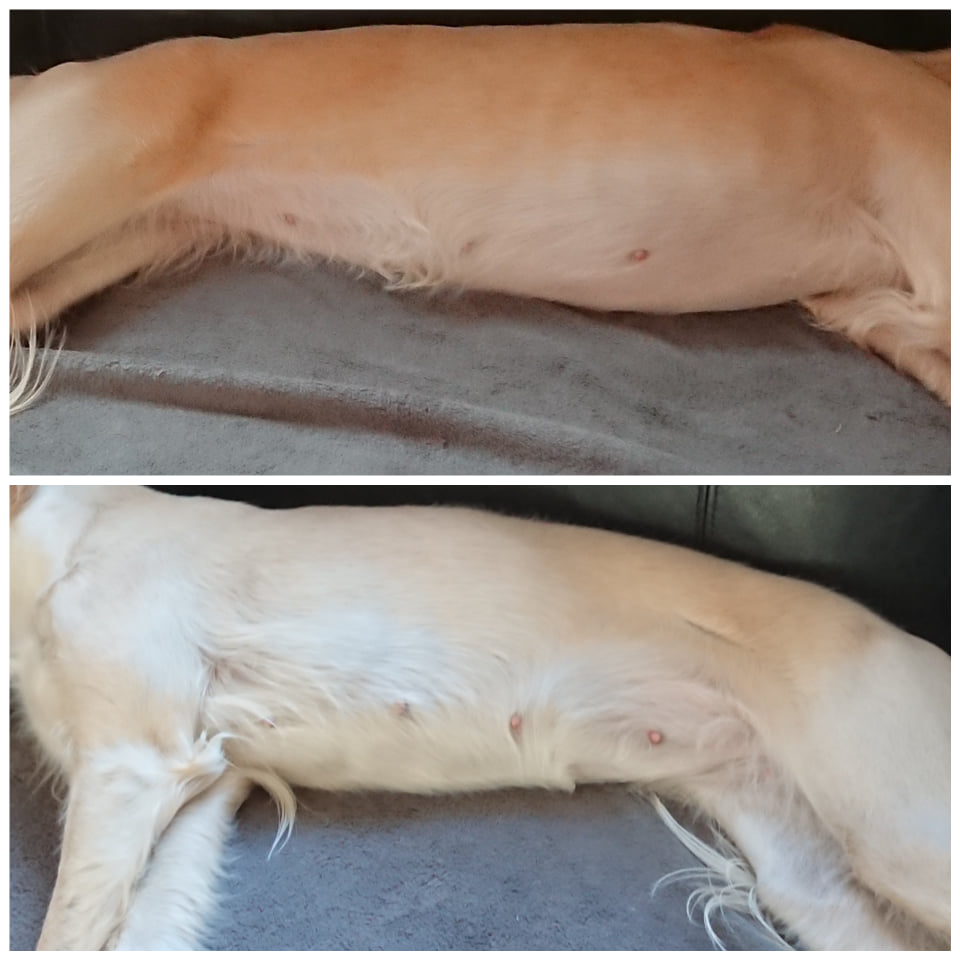 2019-04-14 (3w+0d) Day 21 of 63
Good morning world! It is Sunday today and we are a little bit lazy. Oonah was out in the garden, she got her breakfast when she came back in and after that she was standing in front of the bedroom's door clearly showing that she wanted to go back to bed. Well as all our dogs she is spoiled so she got to do what she wanted. I don't blame her this morning, we only have a few plus degrees Celsius so all of us wonders where did spring disappear?
The full 3 weeks have passed and we are now in week 4 of possible pregnancy. It is still impossible to see any changes on Oonah's body that would clearly tell us that she is pregnant. One thing that could happen is that she could get a clear discharge from vulva. That usually comes during week 4-5 and would be a proof of her being pregnant.
As usual I will keep you posted on what is happening.
Have a nice week to come.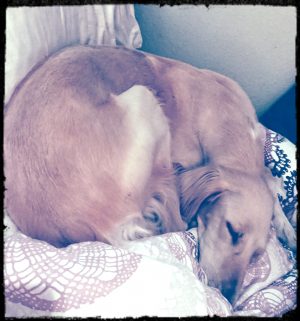 Week 3 (7th – 13th April 2019)
2019-04-13 (2w+6d) Day 20 of 63
Is there any better way to start the weekend than with some cuddling in the bed? This morning Oonah was laying next to me and I stroked her belly and her back for about 20 minutes before we went up. I just love moments like these.
We are now in the 20th day of possible pregnancy. Yesterday and today Oonah burped after she got her breakfast. Today she did it so loudly that David came into the room and asked "Did Oonah just vomited?" She usually never burps and definitively not loudly so this could be a sign of her being pregnant.
The first third of pregnancy is almost done and we are entering the phase in which embryos grow very fast. In the day 20 embryo is 4 mm long and by the day 23 it will be 10 mm long. This period is also the most sensitive one as so much is developing during a short amount of time.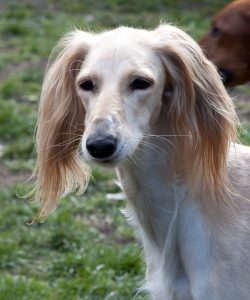 2019-04-11 (2w+4d) Day 18 of 63
I am guessing that you all are very curious about what is happening with Oonah so here comes an update.
Yesterday, on her 17th day of a possible pregnancy she behaved just a usual, to our disappointment. This morning she refused to eat her breakfast. She took it first after I mixed it with some yolk and until now (ca 16.00 CET) she has been a bit more lazy. These could be the first signs of her having nausea. She will get her dinner later this evening and if anything happens I will update this page before our bed time.
2019-04-09 (2w+2d) Day 16 of 63
Did you know that the studies have shown that the number of eggs that each ovary releases differs a lot? At the same time the number of embryos that embed along the each uterine horn is fairly equal. This means that embryos can migrate from one uterine horn to another. Isn't that fascinating? The spacing of embryos along the each uterine horn is the result of ciliary action and muscular contractions.
Tomorrow it will be day 17 of Oonah's pregnancy, if she is pregnant. It is then or on the 18th day that embedding of the embryos into uterine wall will occur.
2019-04-07 (2w+0d) Day 14 of 63
The third week of Oonah's possible pregnancy has started and we are waiting for those famous signs of a dog pregnancy – vomiting and nausea. These usually come during day 17 and/or 18 which would in Oonah's case be on Wednesday or Thursday. It is also important to remember that not all pregnant females vomit. Some just experience nausea which may be difficult for us to notice.
So until we have more information on this topic >>here<< is a link to the video of an running saluki. In this video you can find out what makes salukis so special when running fast.
One day your saluki puppy will grow up to be a perfect training companion regardless if you like to run or take a bicycle ride with him/her. But it is of the outmost importance to remember to take it easy with your puppy's training before they are fully grown. The body of a large breed dog is growing up much slower than a small dog's does. Too intensive training in young age of your dog may be harmful.
Week 2 (31st March – 6th April 2019)
2019-04-06 (1w+6d) Day 13 of 63
We are at the end of the second week and we are getting more nervous for each day that passes by. Soon things will start to happen (or not) and we will know for sure if Oonah is hiding any growing stars in her belly.
Today she run more than she did during the past two weeks. It was heart-warming to see her run like crazy again. I hope she will continue to do so. Picture below is taken today. She looks so calm and beautiful and I wonder if she too is thinking of what the future will bring.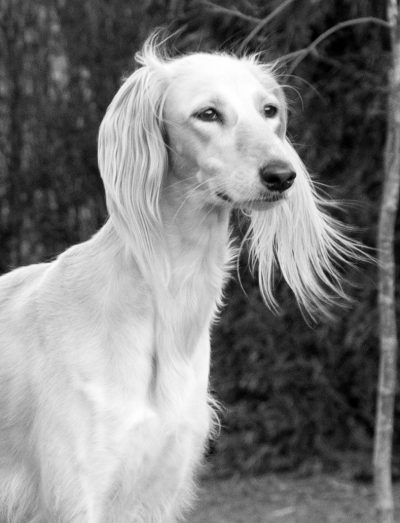 2019-04-05 (1w+5d) Day 12 of 63
For some boring reason time goes very slowly these days. I think that I would get depressed if we at least didn't have beautiful spring weather to enjoy every day. How often do you go outside, take a deep breath and enjoy the warmth of the sun rays on your skin or the pleasant smell of all fragrances in the air that gives a promise of many colours that soon will replace all brown, grey and black trees and bushes we have here. I try to do it as often as I only can.
I understand that it is not the above you are curious about but the Oonah and what is happening with her. Well still no news about if she is pregnant or not. But we are approaching the days that we will get the first real hint. During the third week, around day 17-18, embryos will imbed themselves into uterus and this may result in some nausea and vomiting. For this reason Oonah may also start to refuse her food. So I would say that if she vomit and/ or start to refuse to eat her food then we can be pretty sure that she is pregnant.
Below is the summary of some early signs of a pregnancy and if Oonah is showing them.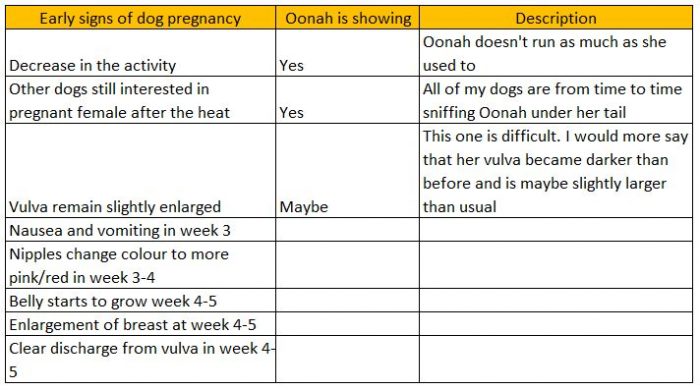 2019-04-03 (1w+3d) Day 10 of 63
Week 2 of a dog's pregnancy is a very boring period for us humans as not much is happening outside the uterus that can reveal if a female is pregnant or not.
Maybe this one thing that actually happened yesterday is yet another early sign of Oonah's pregnancy. What happed was that Oonah started to growl at Anja when she approached Oonah's food bowl while Oonah was eating. This was the first time ever Oonah growled at anyone at a dinner time. She was always the one that gladly shared her food with the rest of the pack.
And again some words about what is actually happening in Oonah's belly, if she really is pregnant:
Embryos are only approximately 8 cells big at the start of the second week. They slowly moved from close to the ovaries to uterine horns where they are now floating around in the uterine fluid while they continue cell division. They will be approximately 64 cells big at the end of this week.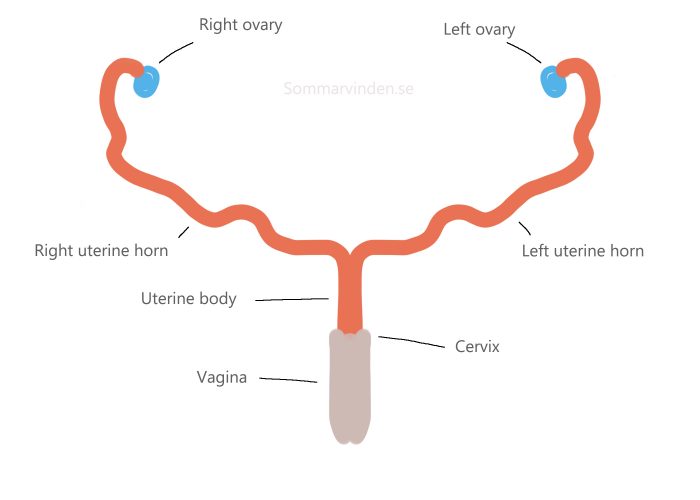 2019-04-02 (1w+2d) Day 9 of 63
We woke up to a beautiful morning with not one cloud in the sky. Warming sunrays lightened the entire bedroom. Even our Italians wanted to get out in the garden.
Apparently this was the morning when Oonah decided to ignore any hormonal changes she may feel and chase Tesla instead. She even concluded her chase just as she always does – drinking the water from our little pond. Now she is back to her new "normal" state, just sitting and sunbathing.
And inside the house she is the calmest dog in the world, at least until Heidi makes her chase her and they both jump around on the furniture.
2019-03-31 (1w+0d) Day 7 of 63
When will we know for sure that Oonah is pregnant?
I believe that if you ask Oonah herself she would say already now that she is pregnant. Since the matings she has been much calmer and does not run as crazy as she usually does. We are determined not to do anything to restrain her so she is free to run in our garden as much as she wants. However, for the most of the time she just stands or sits like on the picture watching Tesla and Heidi run around like two wild dogs. From time to time she jumps and run after one of them for a while but not as wild as she use to do. She also still likes to "dance" with Tesla. This is exactly the same behaviour as Anja had when she was expecting her puppies.
However, we should hold on to the facts so the scientific answer to above question would be:
Once fertilised eggs, embryos, start their journey very high up in the uterus, but towards the end of the first week they migrate down into the uterine horns. Here they float around within the uterine fluid. During the entire week two they will continue to float around and grow (cell division). This is where in time we are now.
It is first during the week three that embryos will start to embed into uterine lining. At that point in time female may vomit or refuse food. Her nipples may become more pink. These happenings would be the first objective signs of an pregnancy.
As of day 25 it is possible to detect the pregnancy with an ultrasound exam. We still haven't decided if we will do it or not. Oonah is not that found of the visits to the vet and we don't want to expose her to the stress a vet visit can give her. We hope to be sure about her state by then anyway.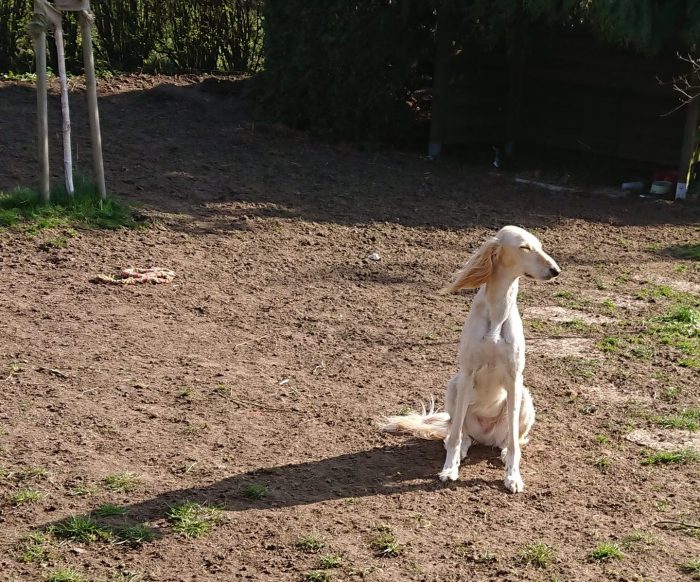 Week 1 (24th – 30th March 2019)
2019-03-29 (0w+5d) Day 5 of 63
And as promised here are our thoughts about the timing of the mating based on the following assumptions:
OVULATION: Based on the progesterone measurement result (24,39 nmol/l on 25/3) we assume that the ovulation occurred on 23rd – 24th March.
MATURING: We assume that each egg needs 2-4 days to mature*
EGG LIFETIME: We assume that each mature egg lives for about 2-4 days*
SEMEN LIFETIME: We assume that semen lives for at least 4-6 days inside the female*
With above assumptions and if we assume that there is nothing wrong with Oonah or with Chili's semen we can say that there is a very good chance that Oonah will get puppies around 27th May.
*Based on the article of Prof. C. Linde Forsberg (canine reproduction expert)

2019-03-28 (0w+4d) Day 4 of 63
This morning I called the veterinarian that did Oonah's progesterone test to ask for the brand of the progesterone analysing instrument. During these last days we learned that different brands of analysing instruments are showing different values for the same sample and that their reference lists don't look the same even if they are using the same measuring unit. And as both of us adults in the family are analytical freaks that like statistics we wanted to compare Oonah's result with the correct reference list. This will help us to find out if the matings were correctly timed.
Apparently the instrument that the vet was using was an Fuji. Thanks to Google we managed to find not only the Fuji reference list but also an article called "Evaluation of a new automated method for rapid measurement of blood progesterone concentration in bitches" that evaluates Fuji's instrument that has been on the market since 2018 and as such is quite new. The summary of the evaluation is that Fuji instrument has the good correlation with the two "gold-standard" methods which are RIA and Immulite® and as such is an reliable in-house progesterone test. (Deep source review for this publication has not been done.)
Below is the reference list so you can make your own analysis of the timing for matings. Oonah's value was 24,39 nmol/l on 25th March.
We will give you our thoughts on it tomorrow.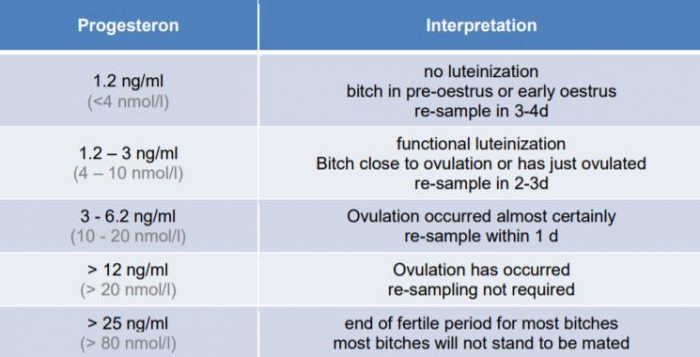 2019-03-27 (0w+3d) Day 3 of 63
Wednesday came and Oonah and Chili met again. It was their third  and last mating. Time has come to keep our fingers crossed and wait for the first signs of pregnancy that may occur in week 3.
2019-03-25 (0w+1d) Day 1 of 63
Earlier today we took Oonah to take a progesterone test as we understood that mating this early in the heat is not what the most salukis do. It is more common to have mating around day 18.
The test showed that Oonah probably ovulated yesterday or today. As so yesterday was OK but the optimal day for mating would be tomorrow or the day after tomorrow according to the veterinarian who performed the test.
As we already agreed to meet today too we decided not to change our plans. This time both Chili and Oonah were in a hurry to do what we came there to do. Second mating was a fact.
We will let them rest tomorrow and let them meet again on Wednesday.
2019-03-24 (0w+0d) Day 0 of 63
Already at Friday 22nd March Oonah allowed our oldest Italian greyhound female Anja to jump on her. That was the fist indication that the right time for the mating was approaching. We decided to meet with Chili on Saturday 23rd. 
Nini (Chili's owner) and we where in agreement that we want Chili's and Oonah's mating to be as natural as possible and if it would not work that way we would not try anything else.
We met on Saturday and we got a nice walk in the forest without anything else happening except two of them playing.
Today we met again and this time both of them showed bigger interest in other activities than just playing so we got a calm and gentle first mating. It was a great work knowing they never did this before.