New EURO Sighthound Winner – SEUCH DKUCH Amal Hayati Oonah Nadira Al Jameela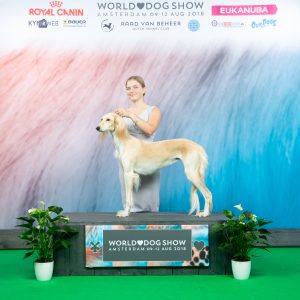 This year we visited The World Dog Show in Amsterdam. Oonah was entered to the Euro Sighthound Winner Show and the World Dog Show.  We had no expectations at all and we just looked forward to spending some time with our friends, family and a lot of beautiful salukis (77 salukis were entered). But as Oonah became the Best Bitch with the double CAC and ended up as the Best of Opposite Sex. This performance gave her a new winner title: Euro Sighthound Winner 2018 and it gave us the moment we will never forget.
What made this day even more unforgettable was sharing our success with all of you who were there with us and whom we would like to thank for making our weekend amazing!