Happy b-day beautiful Star-litter!!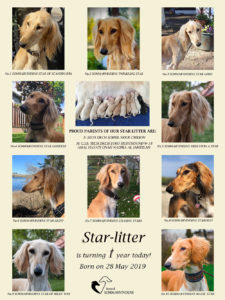 On a beautiful sunny morning, exactly one year ago, my dearest Oonah gave birth to ten sparkling little stars. Six sisters and 4 brothers:
No.1 Sommarvindens Star Of Scandinavia – Lady
No.2 Sommarvindens Twinkling Star – Sari
No.3 Sommarvindens Star Lord – Habibi
No.4 Sommarvindens Star Goddess – Gazelle
No.5 Sommarvindens Wish Upon A Star – Lo
No.6 Sommarvindens Star Light – Nomi
No.7 Sommarvindens Chasing Stars – Leo
No.8 Sommarvindens Stardust – Kiian
No.9 Sommarvindens Star Of Milky Way – Dottie
No.10 Sommarvindens Magic Star – Bailey
Happy 1st birthday dearest sweethearts! I hope that you will get a fantastic birthday! Huge thanks to the owners for taking such a great care of our babies.