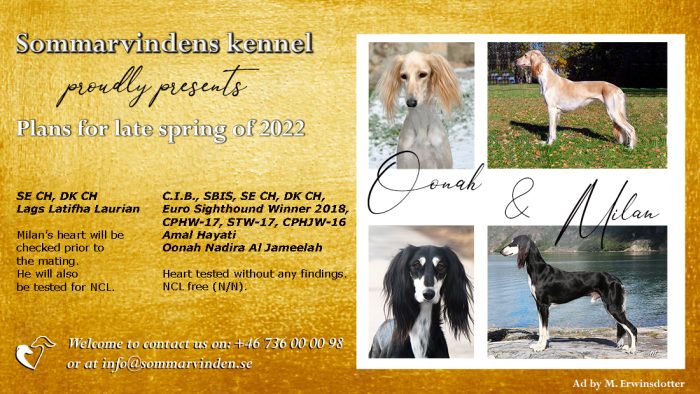 We are so excited to share with all of you our plans for the new saluki litter that we hope will happen late spring 2022.
The mother will be our beutiful Oonah (C.I.B., DK CH, SE CH, ESH 2018, KBH W 2017, ST W 2017, CPH JW 2016 Amal Hayati Oonah Nadira Al Jameelah). We hope that she will get into heat in March.
And the father to be is beautiful Milan (SE CH, DK CH Lags Latifha Laurian).
Oonah is already health tested but we will do a new heart test as the old one is almost one year old. Milan will be tested at the same time.
Those of you who knows me also know how crazy I am about the statistics and saluki colors. So for you guys here is which colors we expect to get in this litter:
Oonah is Eg/e at/ay and Milan is E/- at/at
Different shades of fawn, black and tan and grizzle. These colors are confirmed based on the color of the parents.
As we don't know if the second "E" in Milan's sequence is actually "E" or "e" we can't really be sure if there also will be some creme, gold or red puppies.
Regradless of their color, all little ones will be warmly welcome to our family and overwhelmed with endless love and care, just as all our puppies are.
Update 2022-04-15:
Oonah started with her heat on 14th of April. If things go well I believe she will be mated around 26th of April and give birth around 28th of June. This means that the puppies will be ready to move to their new families around 24th of August.
Milan and Oonah both got their hearts tested in February this year and they where found healthy with no signs of any heart diseases.
Milan also got the result of his NCL test and he is Genetic free N/N, just as Oonah is.